Disclosure: This post may contain affiliate links from which I earn a commission.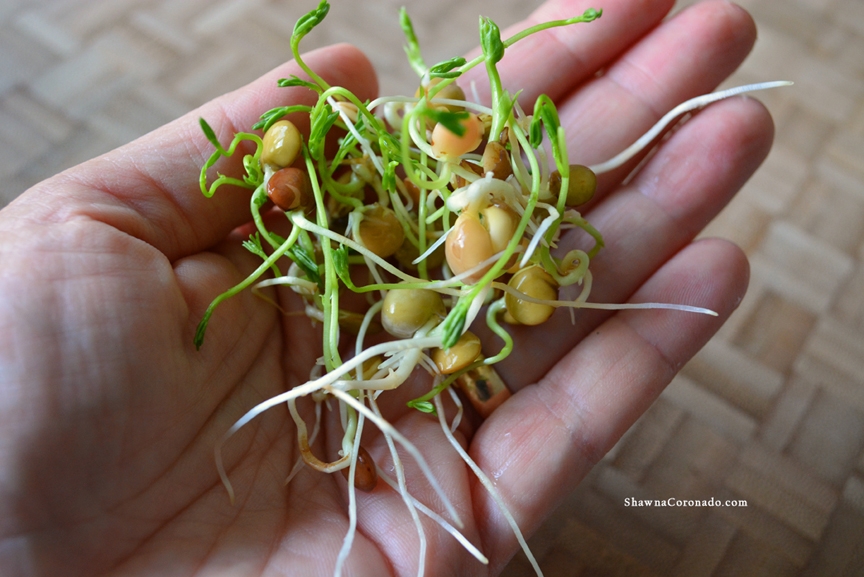 THIS FLASHBACK POST IS ON HOW TO GROW SPROUTS — Sprouts are easy to grow inside your house and if you are looking to supplement your COVID-19 / Coronavirus food rations, sprouts are nutritionally sound. Here's a quick guide on how easy they are to create in your kitchen.
~~~~~~~~~
A great way to get your garden on at this time of year is to grow your very own sprouts INSIDE your home. No sweat or weeding required. Of course, you can grow this way anytime of the year you prefer, but I find sprouts particularly refreshing on a summer salad, so highly recommend growth them right now.
Sprouts are actually germinated seeds, which means the tiny seed is pushing out it's stem. The benefit of consuming the little cuties is that they are densely packed with nutrition – fiber, vitamins, and protein for a start. Perfect for an anti-inflammatory diet if you have chronic pain, diabetes, arthritis, or another inflammatory condition. When you're consuming sprouts, you are consuming little plant stems. Growing sprouts is super easy and requires very little light and no fertilization in order to grow.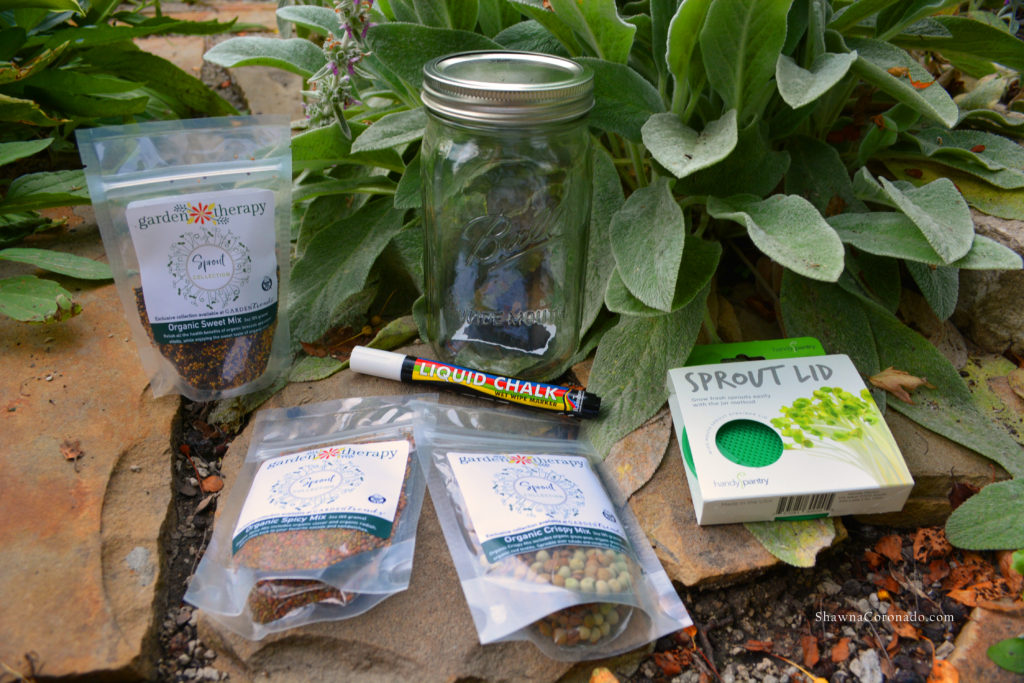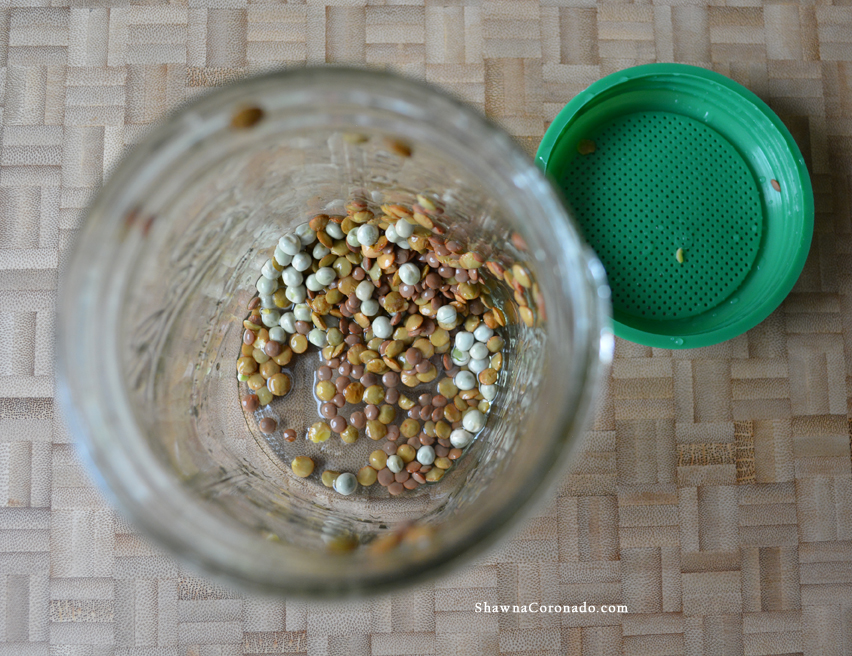 My friend Stephanie Rose from Garden Therapy has developed a line of delicious sprouts – a Crispy Mix, Sweet Mix, and Spicy Mix and it's all included in the super cool Mason Jar Sprouts Kit she sent me so I could give it a looksee. My review is a definite two green thumbs up! There's no bleaching or extra processes, which I've had to do with other seeds in the past, therefore I found it to be an easy way to grow sprouts. I particularly like the little chalkboard label you can attach (see below) so you can put a label on front easily.
Easy Peasy Instructions for Growing Sprouts
Using the mason jar with special straining lid, wash the jar, then fill 1/4 way with seeds. Add a few inches of water, put the lid back on, swirl around to wash, then drain.
Refill the jar with 3 inches of warm water and let it soak overnight (8-12 hours).
Strain the water off, then refill with fresh water and give it a swirl, then DRAIN IT THOROUGHLY.
Rinse and strain the seeds like this – once in the morning and another time in the evening – until sprouts are ready to eat.
Harvest time is between 3 and 7 days.
It is particularly important to rinse your sprouts twice a day because bacteria and molds can form if you do not keep the sprouts clean and happy. You can store the sprouts for several days in the fridge.
Stephanie says, "I've been sprouting for more than 10 years and based on how easy they are to grow and how much I love the flavor of them, I have mixed seeds to come up with blended recipes that are my favs! Sprouts can pack a lot of flavor and texture, not to mention nutrition. The three sprouts that come in the kit are described for their flavor: crispy mix is great for salads and soups to add some crunch, spicy mix is yummy on eggs and meat as it has the bite of fresh radish, and the sweet mix I almost called nutrition mix because is is power packed with alfalfa broccoli and clover."
This is by far the easiest way to grow sprouts in your kitchen – simple with no-tech needed and all organic. If you would like to order your very own sprout kit, you can go here on the Garden Therapy website – https://gardentherapy.ca/product/mason-jar-sprouts-kit. Special thanks to Stephanie Rose for sending out the kit and letting me try out this fun way to grow indoors during the hot summer!