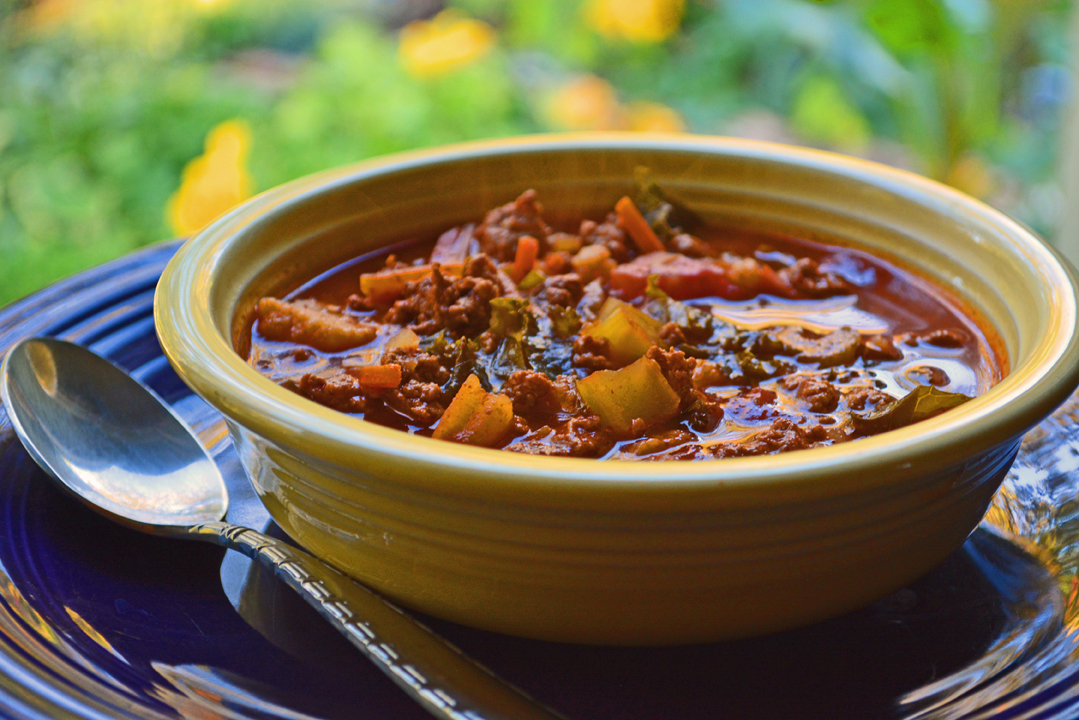 Moving forward with more smart ways to stretch out our food rations for the COVID-19 / coronavirus tragedy. Below is a FLASHBACK BLOG POST for you that demonstrates an easy to make chili recipe that has a lot of flavor. One thing special about this recipe is it uses more vegetables than you normally see in chili — this is a good thing it means more nutrition. Use whatever vegetables you have on hand, don't feel you have to stick with this exact recipe.
Much love to you and all your family. Stay well and healthy!
~~~~~~~~~
Chili made from boxed onion soup? Yessirree Bob! I came up with the idea while reaching for an organic chicken broth box at the grocery store, when one shelf up I saw the organic onion soup and thought, "Wow, that would make my chili much more yummy." Thankfully, I was right and the chili has turned out to be one of my favorite most flavorful homemade soups of all time. Beyond being flavor filled, it is also low in calories, inexpensive to make, feeds 20 people, and is full of nutrition. It's super fast to put together too – it took me all of 15 minutes to throw it all in the crockpot. Substitute any of the vegetables for whatever you have around the house that is fresh.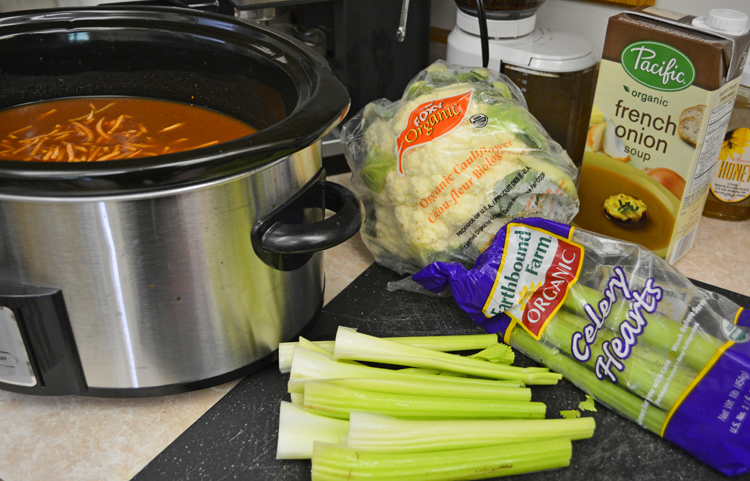 Crockpot Chili Recipe
1 lb ground turkey
1 box organic French Onion Soup
1 14.5 oz can organic diced tomatoes
3 cans of 11.5 oz V-8 juice
1 cup chopped organic cauliflower
1 cup chopped organic celery
1 cup chopped kale (from the garden-yum!)
1 cup shredded carrots
2 tablespoons fresh crushed garlic
1 tablespoon cumin
1 tablespoon chili powder
1/2 teaspoon red pepper (or more if you like it spicy)
3 sprigs fresh oregano from the garden
Salt and pepper to taste
Brown meat in pan. Transfer to a crockpot. Add all other ingredients. Simmer all day until flavors are thoroughly married and cooked through.
~~~
That's it. A super easy recipe for Crockpot Chili that will knock your socks off with flavor. Use organic ingredients for your culinary creation and it is even healthier. Perfect for fall or any old time you get a hankering for a hearty soup.