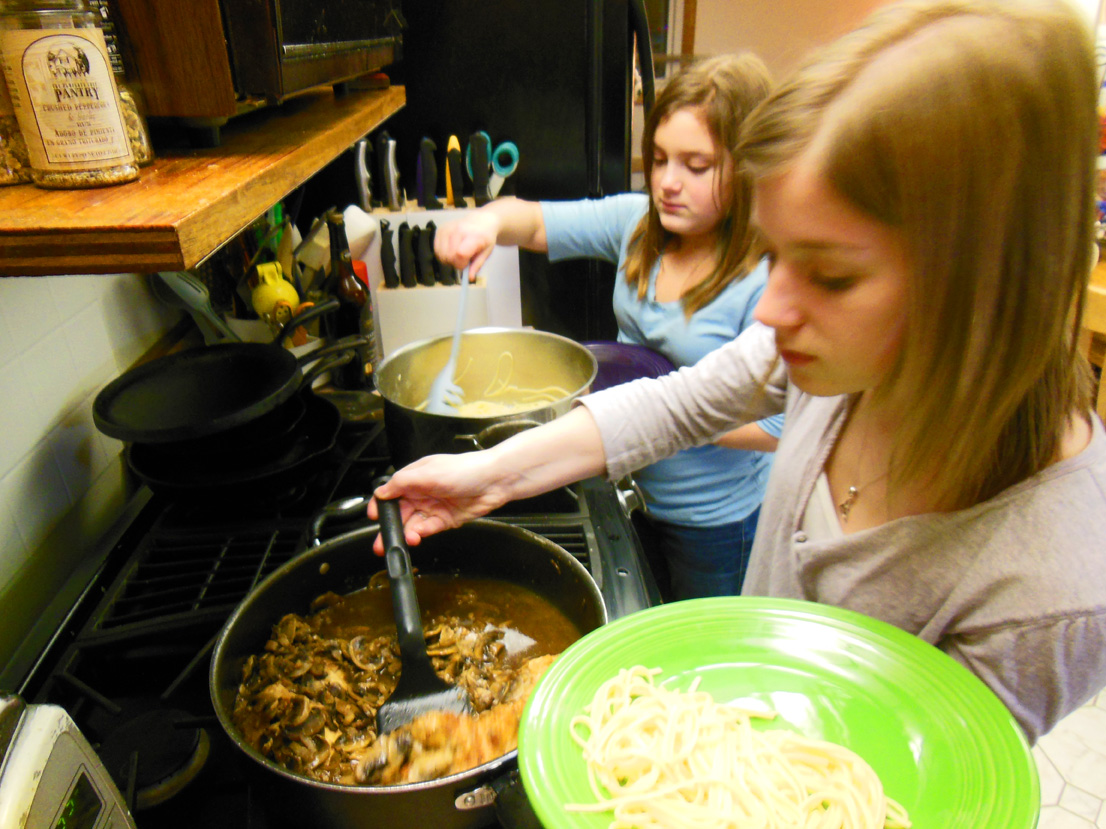 Love comes in many forms and without a doubt this recipe is filled with it. In fact, I like to call this recipe my little secret weapon of love – perfect to get boyfriends, girlfriends, husbands, and children (mine are loading their plates above) to do anything you might like them to do. Need the house cleaned? Promise them this saucy delight and they will find a way to get'er done. Over 15 years ago I got the basic recipe for this dish from one of my best girlfriends. I have no idea where she found the recipe, but I have customized it to my own tastes and officially declared it the BEST CHICKEN MARSALA RECIPE ON EARTH. Better than any restaurant, this Marsala recipe of love makes me drool just thinking about it and is the perfect Italian comfort food.
Many of you know I am allergic to mushrooms, but not severely, therefore I avoid eating the mushrooms in this recipe and leave those to the rest of my family. I have the sauce, pasta, and chicken sans mushrooms and smile the entire time I am eating it. I highly recommend using organic and/or non-gmo ingredients for your recipe. I did not this time. I try to be as green and healthy as I can, but sometimes I am unable to find the ingredients I would prefer.
WARNING: This recipe will cost more than $10 per family to prepare. My guesstimate is around $15.00 depending on the quality of Marsala wine you get. This recipe is not calorie conscious either but IS filled with delicious drool-worthy tastiness.
(FYI UPDATE — Since this story was originally aired, I've started using all organic broth and it's delicious and inexpensive – please use less chemicals in your cooking if you are able – it's healthier for your family.)
CHICKEN MARSALA RECIPE
Ingredients:
1 ½ Lbs Boneless Skinless Chicken Breasts (pound out thin)
Salt and Pepper to taste
½ Cup Flour
2 Tbsp Oil (Extra Virgin Olive Oil is best)
½ Lb Sliced Mushrooms
1 small onion, ground (a.k.a. chopped into smithereens)
½ Cup Sweet Marsala Wine
½ Cup Beef Broth
2 Tbsp Butter
 Instructions:
Season chicken with salt and pepper to taste; coat with flour.
Melt 2 Tbsp Butter and 2 Tbsp Oil in a large skillet; brown 3 to 4 minutes on each side.
Remove chicken.
Add mushrooms, onions, wine and ¼ cup of broth to skillet. Deglaze pan by heating to boiling; boil 1 to 2 minutes, scraping bottom to remove brown particles.
Return chicken to skillet. Heat to boiling. Cover, reduce heat and simmer about 20 minutes.  Baste meat twice with liquid.
Place chicken on a warm covered platter in a low oven. Add remaining ¼ cup beef broth to skillet.  Heat to boiling and reduce by boiling and stiring until liquid is of syrup consistency. Stir in 2 Tbsp butter until melted.
Pour sauce over chicken and serve.
 Special serving idea note —
Serve pasta on the side, double the sauce and mushroom ingredients, drizzle the extra sauce over the pasta and add a little fresh parmesan sprinkled over the top.
Also – USE REAL MARSALA WINE, not the "grocery" imitation.  Go to the liquor store and buy a bottle of Marsala.  It will keep for a while in the fridge so you do not have to use it all at once.