Disclosure: This post may contain affiliate links from which I earn a commission.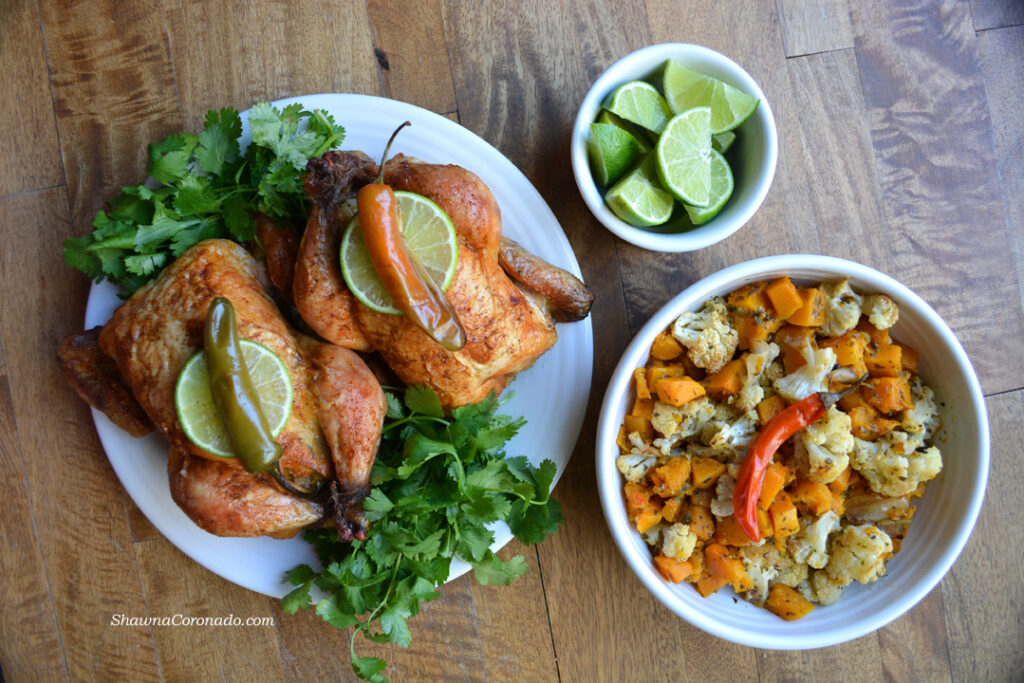 Cornish Hens are a family favorite at my place – we call them "miniature turkeys" – and truly make a small celebration of the big holidays. While traditional Thanksgiving or Christmas might be canceled this season, it is still possible to have home-cooked comfort food to give your household that beautiful glimpse of the season.
My children were little when we began the "miniature turkey" tradition. Although there are miniature turkey breeds, our miniature turkeys are actually Cornish Hens. A single stuffed, trussed, and roasted Cornish Hen is placed in front of every member of my smiling family for holiday dinners. The result is always delight-filled shouting, "Aren't they cute?" Traditional side dishes are served, of course, but the real darling of the holiday table is that mini-turkey on each person's plate.
Mediterranean Diet, Paleo Diet, and Keto Diet Cornish Hen Recipe
This recipe is incredibly easy and can help you make a tasty and delicious holiday meal. Without a doubt, the other benefit is that this main course is that it is anti-inflammatory and healthy. The turkey and stuffing combination qualifies as an Anti-inflammatory Diet and aligns with the Mediterranean Diet, Paleo Diet, Keto Diet, and is generally VERY GOOD for you and your family.
I created this specific recipe when Kevin's Natural Foods announced a contest to see who could create the most magnificent anti-inflammatory recipe utilizing their flavor-filled paleo and keto sauces. My first thought went to the holidays – you all have been asking me for creative small celebration holiday dishes. In response, I've created a whole series of amazing main courses utilizing the sauces from Kevin's Natural Foods.
Whip up the dressing first and then add Kevin's sauce plus a few seasonings from your pantry, stuff that Cornish hen, and finally bake it in the oven until your house smells heavenly.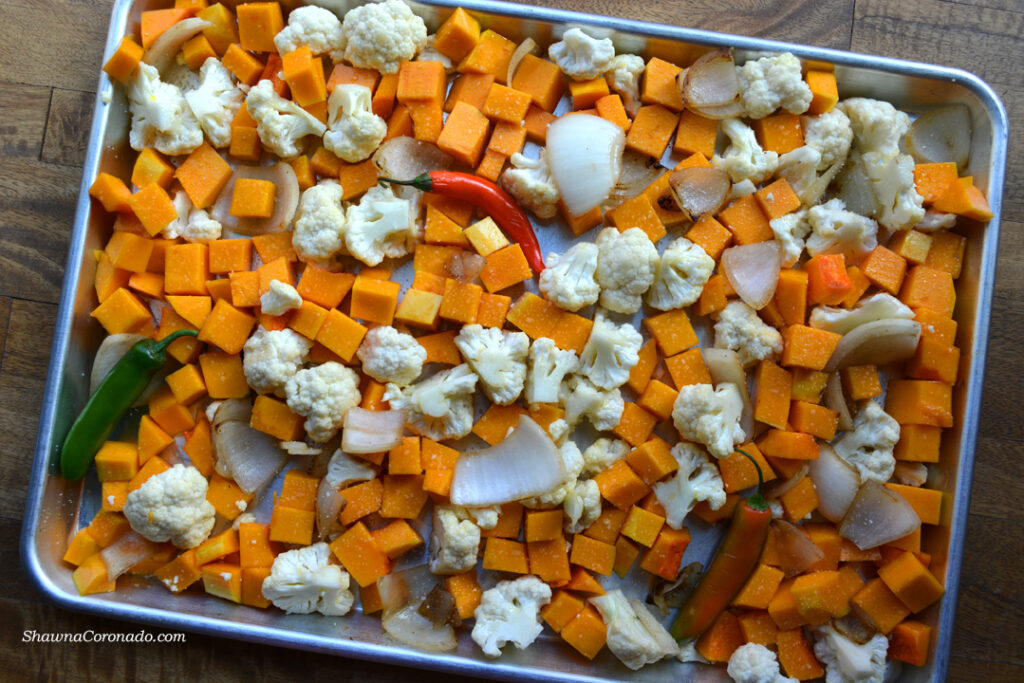 How to Make Cilantro Lime Cauliflower and Butternut Squash Dressing
Roasted cauliflower and butternut squash is a surprisingly yummy vegetable combination. Make this dressing, then stuff it in your poultry for added flavor invested in the bird. I had a leftover grilled onion I tossed in, however you can use a fresh onion or pull the onion out entirely.
Want a great vegan side dish to serve at your meal? Roasted cauliflower and butternut squash dressing goes above and beyond delicious and is excellent for Paleo or Keto diets. This recipe is also a vegan side dish if served without roasting inside the bird.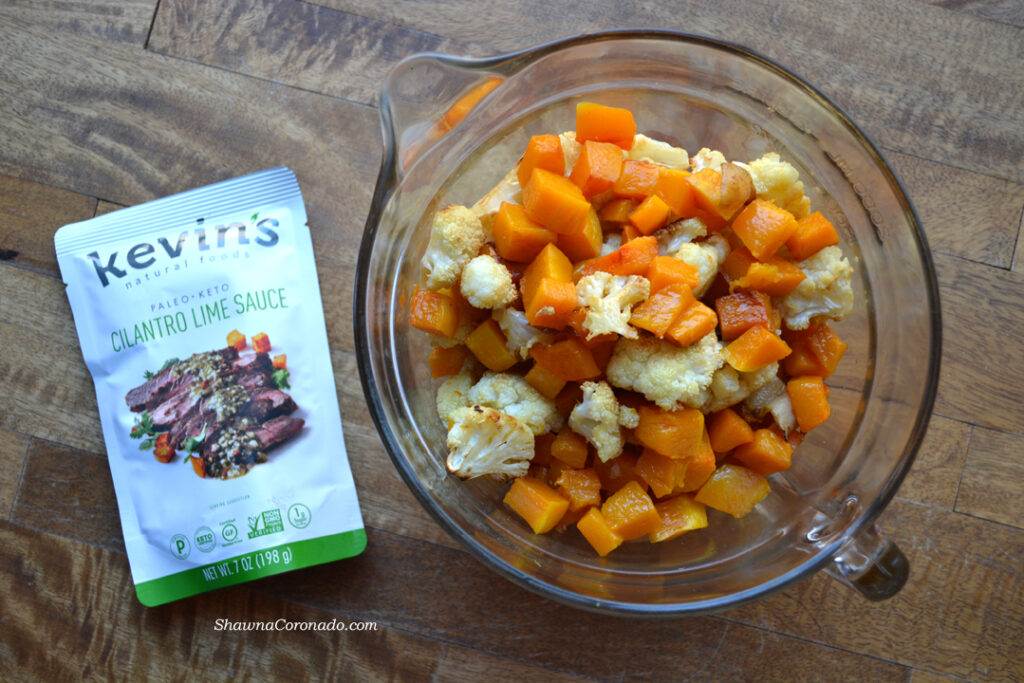 Print
Ingredients
1 medium butternut squash, peeled and cubed

1 head cauliflower, chopped into one-inch pieces

1 onion, chopped into one-inch pieces (optional)

2 or 3 spicy peppers of your choice (optional)

1 T herbal Mexican Seasoning

1/2 t Taco Seasoning

Salt and pepper to taste

Olive oil (enough to lightly coat your ingredients – appx 2 to 3 T)

1 package (7 oz) Kevin's Natural Foods Cilantro Lime Sauce
Print
Directions
Heat oven to 400 degrees F
Place all the vegetable ingredients in a bowl
Drizzle olive oil over the vegetables, mix well
Spread vegetables on a large baking sheet
Sprinkle with salt and pepper
Roast for 20 minutes, pull out of oven and let cool a bit
Add herbs, seasonings, and Kevin's Natural Foods Cilantro Lime Sauce, stir well
Serve, or stuff poultry with mixture, then place any extra vegetable mixture in a casserole dish to bake until heated through to serve separately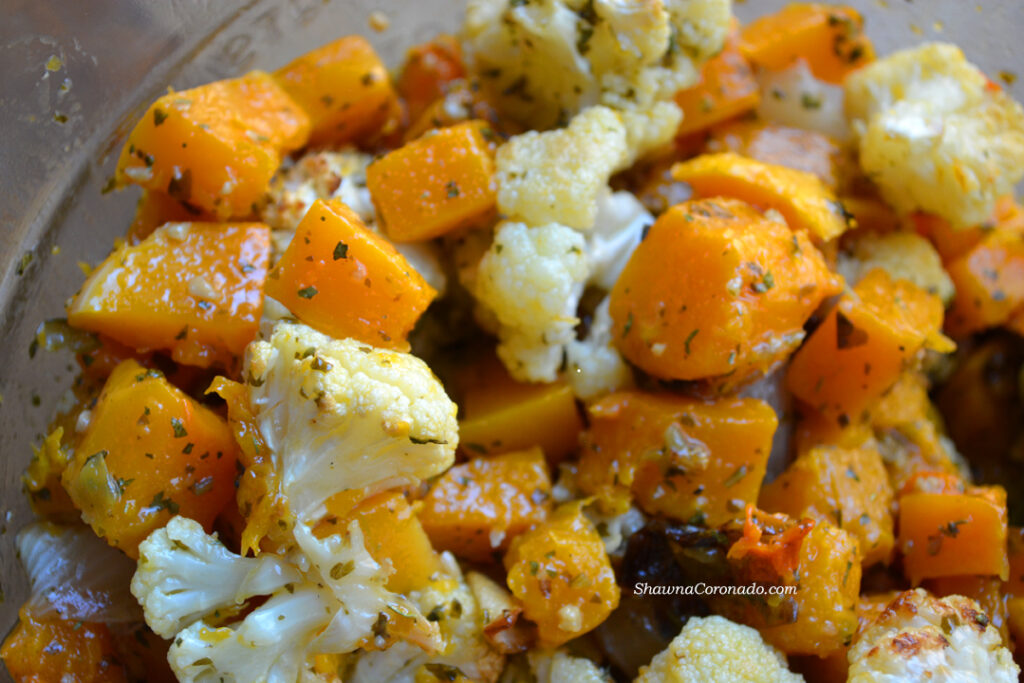 How to Roast a Cornish Hen
Roast a Cornish hen by following three easy steps:
Preheat the oven to 350F and oil the roasting pan
Lightly oil outside of birds, season generously inside and out, stuff with preferred dressing, then truss
Roast the poultry, uncovered, for 50 to 60 minutes or until a baking thermometer reads 180F. Insert thermometer in the thigh area at the thickest part, being sure to avoid the bone. Let the poultry rest for 20 to 25 minutes. Garnish and serve whole or cut Cornish hens in half.
Roasted Butternut Squash and Cauliflower Stuffed Cornish Hen Recipe for Paleo, Keto, and Mediterranean Diets
Ingredients
2 whole Cornish Hens (a.k.a. Miniature turkeys) that are between 1.5 and 2 pounds

2 to 3 Cups pre-cooked Roasted Butternut Squash and Cauliflower stuffing (see recipe above)

1 T Taco Seasoning

Olive oil

Salt and pepper to taste

Twine
Directions
Heat oven to 350 degrees F
Prepare the Cornish hens by drying the skin then rubbing all the skin with olive oil
Sprinkle salt and pepper inside and outside the hen
Stuff the Cilantro Lime Roasted Butternut Squash and Cauliflower Recipe mixture into the hens
Using twine, truss the legs closed to hold in the vegetable mixture
Place the oiled stuffed hens on a baking sheet or roasting pan uncovered
Sprinkle the tops of the hen with taco seasoning
Bake for 60 minutes or until the inner thigh area is measured at 180 degrees F
Brush with a bit more olive oil and roast another 10 minutes at 400 degrees F to brown
Remove the hens and let rest 20 to 25 minutes
Garnish and serve whole or slice the hens in half with a sharp knife. If roasting Cornish Hens for Thanksgiving or Christmas, one might choose to serve the birds whole or split the birds in half serving one half for each person.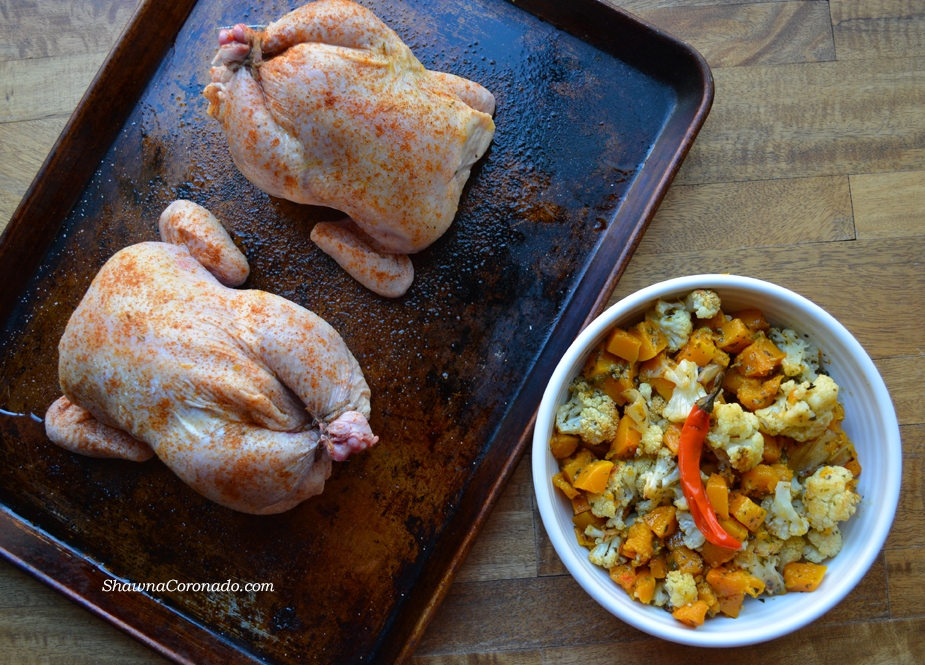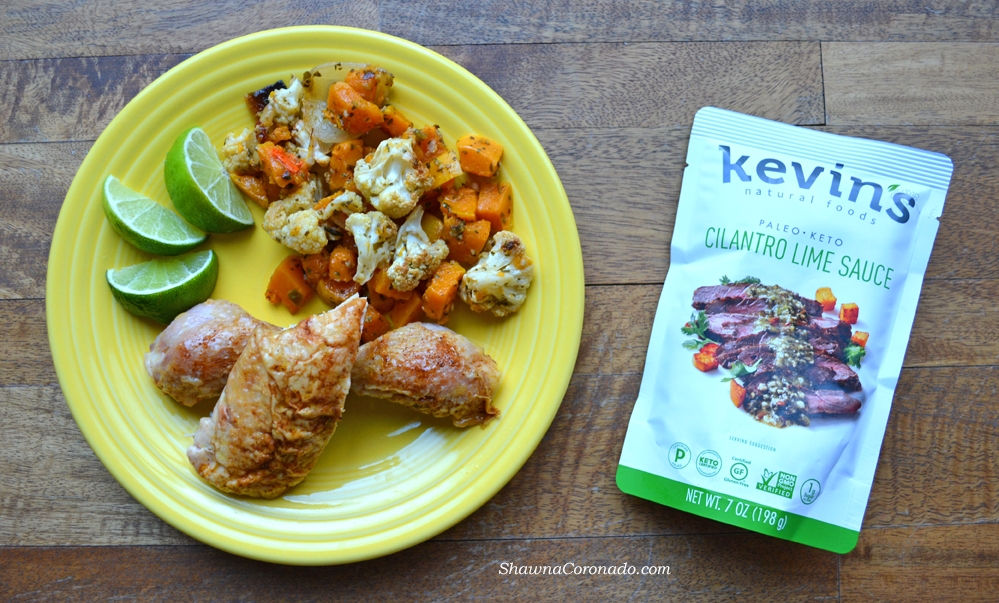 Feature Ingredient Used in This Recipe
Special thanks to Kevin's Natural Foods as the Cilantro Lime sauce is delicious and contributes a bright flavor to the vegetables I love. The taste permeated the hens and has an over-the-top flavor.
There are tons of links to fantastical recipes out on Kevin's Facebook, Instagram, or Pinterest social sites, so you can find more information on how to utilize Kevin's products to eat clean and live happy. Check it out here – Kevin's Natural Foods.
Get Stacked with Flavor as a Holiday Gift!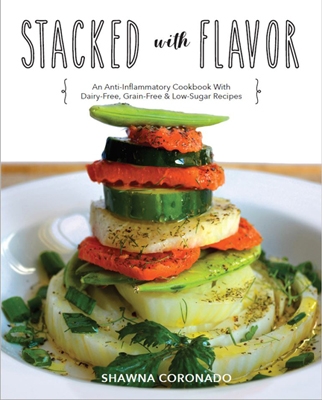 Don't forget you can get a copy of my book Stacked with Flavor; An Anti-Inflammatory Cookbook with Dairy-Free, Grain-Free & Low-Sugar Recipes RIGHT NOW for your holiday gift giving. Inside this full-color photographed book you can find all kinds of recipes that are clean diet; no grain, no dairy, no sugar. These smart foods can help you reduce chronic pain and feel better every day.

How long will Cornish hens last in the refrigerator?
Cornish hens can be refrigerated for 3 to 4 days or between 1 to 3 months in the freezer. Reheat by microwave or baking at 300 degrees F for 10 minutes.
Do you cover Cornish hens when baking?
No. It is not necessary to cover a Cornish hen when baking. In fact, it is better to leave it uncovered. When roasting Cornish hens, baste frequently with olive oil in order to help brown the skin nicely.