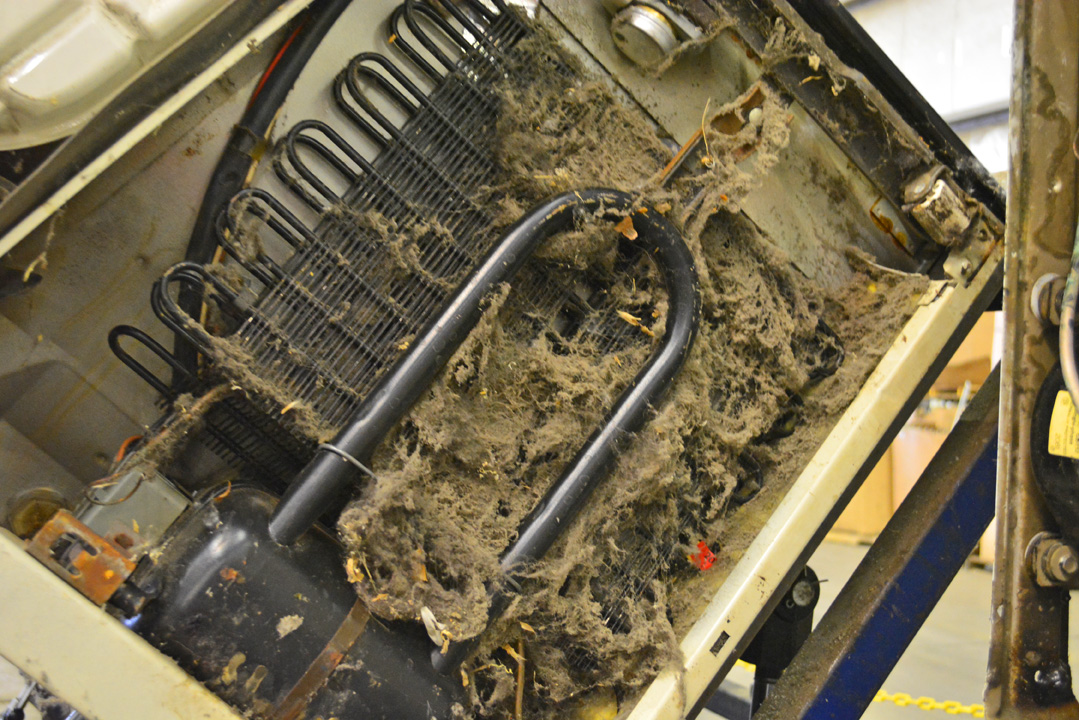 We are all isolated and bored at home. The anxiety is stressful with the COVID-19 / coronavirus tragedy. If you are bored and looking to clean up a few things in your home that will help keep you and your family healthy, try cleaning. Below is a FLASHBACK BLOG POST for you that demonstrates how easy it is to clean out under your refrigerator. I wish you health and wellness!
~~~~~~~~~
A few years ago I pulled the refrigerator out to paint the wall behind it and was shocked to see a really dirty mess. I didn't take a photo of it at the time as it was horrifying, but I did take a similar photo of the bottom of a refrigerator (above) when I went to tour the refrigerator recycling facility for ComEd's Smart Ideas® Fridge & Freezer Recycling program. The photo above shows you what your refrigerator coils might look like in your home. Clean refrigerator coils and save energy –  it can increase air circulation and helps the coils do their job so they do not have to work extra hard to keep your food cool. A clean coil means you help extend the life of the refrigerator and keep that dust and dirt out of your home at a time when you need clean air for your health.
Since we are entering that Spring Cleaning time of year, I thought you might like a quick lesson on how to clean a refrigerator coil so you can clean up a yucky mess and be green and sustainable at the same time. You should clean your coils at least once per year.
HOW TO CLEAN REFRIGERATOR COILS
Pull out refrigerator cautiously. Shut off ice maker or water supplies. Unplug refrigerator.
Gently knock the dust off around the condenser coils using a tool called a "refrigerator-coil brush" (you can find the brush at any hardware store). Vacuum the dust up and off of the grill and coils.
If there's grease build-up on the grill, use a warm water and vinegar mixture to clean the grill and the area surrounding it. Once dry, put the unit back together and plug into the wall.
Below is a quick video from AmyWorks on how to clean refrigerator coils. She's awesome and gives a great lesson.