Disclosure: This post may contain affiliate links from which I earn a commission.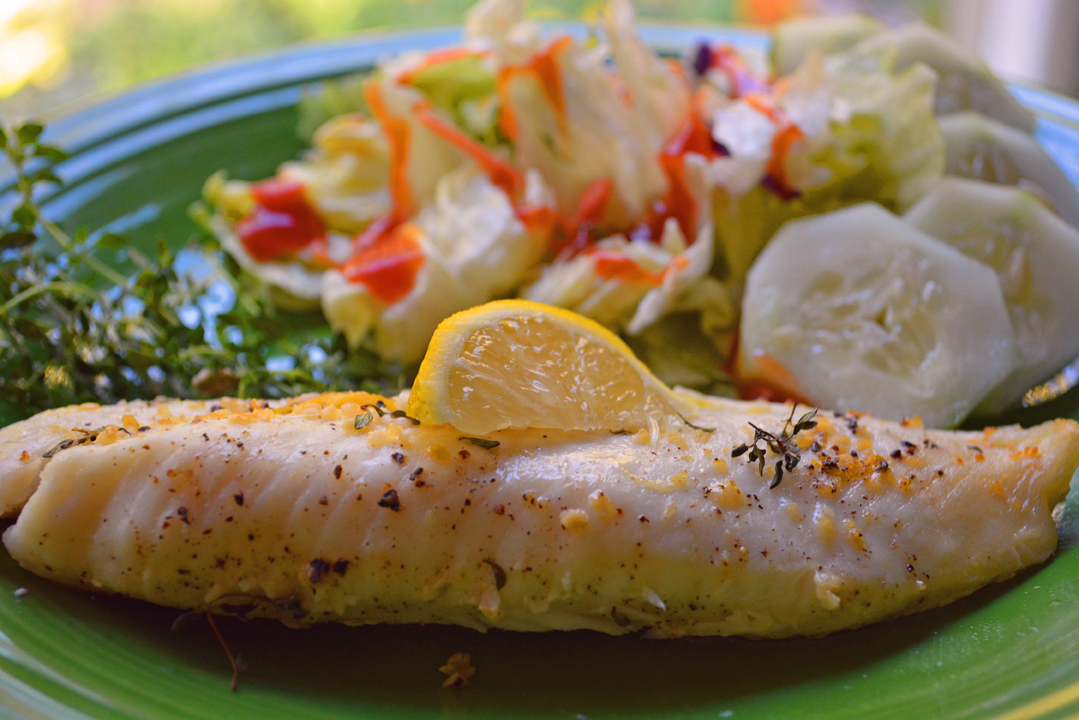 Studies repeatedly confirm that consuming omega-3 fatty acids can help reduce chronic inflammation. This white fish recipe is the BEST because it is easy to prepare and jam-packed with omega-3. It definitely tastes as good as it looks. Get the recipe and a few tips below on how fatty acids can help you to feel better.
Taking Omega-3 Supplements versus Eating Whole Foods
Consuming a smart whole food diet is always the preferable choice over eating a poor diet and then adding in vitamins as an afterthought. When I was a young child, my parents used to tell me to "eat my vitamins", yet our meals were pretty unhealthy. Consuming deep-fried foods, heavily buttered mashed potatoes, and white bread with no fiber and low nutritional value, then tossing down a vitamin on the side is not a particularly smart choice to lower your family's inflammation.
However, what IS healthy is eating a whole food diet every day and including lots of vegetables and foods high in omega-3 as a part of a wellness lifestyle with supplements recommended by your medical professional. This can contribute to an already healthy meal. Foods with omega-3 can reduce inflammation associated with conditions such as heart disease, diabetes, and osteoarthritis.
Of course, one of the best natural sources for this fatty acid is fish, especially tuna, salmon, anchovies, and white fish. Consuming an additional omega-3 supplement – as recommended by your nutritionist or health professional – with healthy anti-inflammatory meals can help you to dampen inflammation.
Eat Omega-3 Rich Foods Every Day
Eating foods that are rich in fatty acids every day along with a whole food diet and regular exercise, can help you to reduce chronic inflammatory pain.
List of the Best Tasting Sources of Fatty Acids
This list is about taste-ability. While many lists show higher percentages of omega-3 only, this is a list of foods that are easy to find at the grocery store and are more commonly consumed and liked, so you might find them easier to incorporate in recipes.
Avocado
Blueberries
Most fish, but emphasis on fatty fish such as salmon and tuna
Eggs
Walnuts
Plant oils
Vegetables such as brussels sprouts, cabbage, winter squash, and green leafy vegetables
The fabulous recipe in this post is for a delicious white fish that has loads of fatty acids and is a great kick-off to your daily omega-3 cooking efforts. It is brilliant served with riced cauliflower and salad on the side. While the recipe suggests butter, it is a healthier anti-inflammatory choice to utilize olive oil. If for some reason you cannot find lemon thyme, no worries, use regular thyme and toss in some extra lemon rind. Use more garlic – it's SO YUMMY!
White Fish Recipe Baked With Lemon Thyme and Garlic
Ingredients:
White fish, 4 – 4 oz. filets
Olive oil, 1 ½ Tablespoons (or butter if you must)
Fresh garlic, 2 Tablespoons crushed (or more if you like – it keeps the vampires away ya know)
Juice of ¼ lemon
Lemon rind, 1 teaspoon
Lemon thyme, handful of herb sprigs
Preparation:
Preheat oven to 400. Thaw, rinse, and salt/pepper the fish filets. Place several springs of lemon thyme on bottom of a baking pan
. Put white fish on top of lemon thyme. Mix olive oil, garlic, juice, and lemon rind together. Pour mixture over filets. Salt and pepper as desired. Place a few more sprigs of herbs on top. Bake for 20 minutes.
Now that you are done with this most delicious, Omega-3 rich White Fish Baked with Lemon Thyme and Garlic recipe, it is time to review "Best Tasting Sources of Omega 3 Fatty Acids" list on this page and plan how you are going to incorporate omega-3 regularly into your anti-inflammatory recipes and meal plans.
---
Read the Frequently Asked Question section below for more smart omega-3 tips.
How does omega-3 reduce depression?

Research has shown that consuming foods that are rich in omega-3 can, indeed, lower depression levels. However, studies with fish oil supplements have not shown as strong of results as eating a healthier diet which might be high in natural sources of the fatty acids. Eat fresh fish, nuts, seeds, avocado, blueberry, and leafy greens at every opportunity.
Which omega-3 supplement is best for arthritis inflammation?

The primary type of omega-3 fatty acids are alpha-linolenic acid (ALA), eicosapentaenoic acid (EPA), and docosahexaenoic acid (DHA). There are many different types of omega-3 supplements on the market place, but the National Institute of Health says that fish oil supplements are used the most commonly as they contain both EPA and DHA. Studies have shown fish oil use has helped people suffering from inflammatory conditions such as rheumatoid arthritis. Taking fish oil can also lower triglycerides and reduce mental fatigue. If you and your health professional decide fish oil is for you, be sure to get mercury-free fish oil and check for drug interactions with other medication you might be taking.
Does omega-3 reduce inflammation?

Yes. Omega-3 fatty acids have been proven through multiple studies to reduce inflammation and contribute positively to an anti-inflammatory lifestyle. Consuming omega-3 daily is beneficial for many inflammatory health conditions such as arthritis, heart disease, and asthma.
Can you get omega-3 from vegetables and fruits?

Absolutely. Fruits which have omega-3 include avocado, blackberries, blueberries, raspberries, and strawberries. Vegetables including Brussels sprouts, cabbage, winter squash, and green leafy vegetables also have fatty acids. Leafy greens, in particular, are packed full of ALA and can increase your omega-3 levels. Beyond the benefits of consuming more omega-3, you also get more fiber and other important nutrients, so eat your greens. Better yet, GROW THEM!