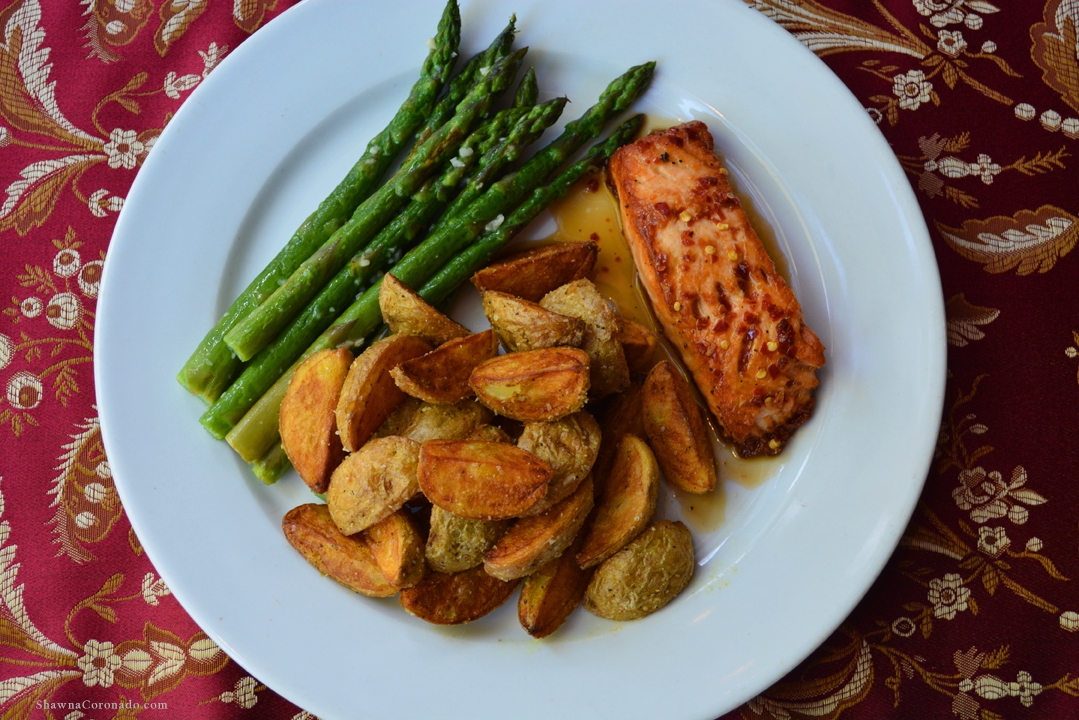 Thanksgiving is filled with the traditional, right? Mostly that's a good thing, but some years it can get boring – turkey, sometimes ham, always the same. Why not change it up and try a different dish for Turkey Thursday and give your palate a change? During a recent visit I had to the Cellar Cat restaurant in the Wine Country of Albany, Oregon, the Cellar Cat team a dish which is healthy, low fat, with no grains and no dairy (top photo). Salmon is filled with healthy Omega fats and tastes delicious. I was inspired by their beautiful food to use salmon in more meals.
Baked Salmon Recipe
Author:
This is a delicious baked salmon recipe with honey and fresh ingredients.
Ingredients
6 – 6 oz Salmon filets
4 Tablespoons olive oil
4 Garlic cloves, crushed
4 Tablespoons fresh basil, chopped
2 Tablespoons honey
2 Tablespoons lime juice
Salt and Pepper
Instructions
Prepare marinade by combining olive oil, garlic, basil, honey, lime juice, and salt and pepper.
Place salmon fillets in a baking dish and pour the marinade over the fish.
Marinate for several hours in the refrigerator.
Preheat oven to 350 degrees F
Drizzle olive oil over baking sheet, placing salmon on top of oil.
Add a bit of the marinade.
Cover baking sheet with foil.
Place in oven.
Immediately reduce heat to 325 degrees F.
Bake until the middle part is done to a temperature of approximately 110 to 145 degrees when tested with a meat thermometer. Check at 15 minutes, then every 5 minutes thereafter until done.
Pull salmon out of oven and let rest for 10 minutes before serving.
Below is a salmon nutritional chart from Dr. Josh Axe. It shows you how much amazing nutrition is in every bite of this yummy fish. Because this food is very high in Omega-3's, it makes it particularly effective in fighting disease. Changing up Thanksgiving dinner – which is sometimes an unhealthy experience due to all the over-eating – might be just what the fall doctor ordered because it represents a healthier choice than ham or beef. Turkey is lower in fat, but if you are tired of the same old-same old salmon might represent a positive change.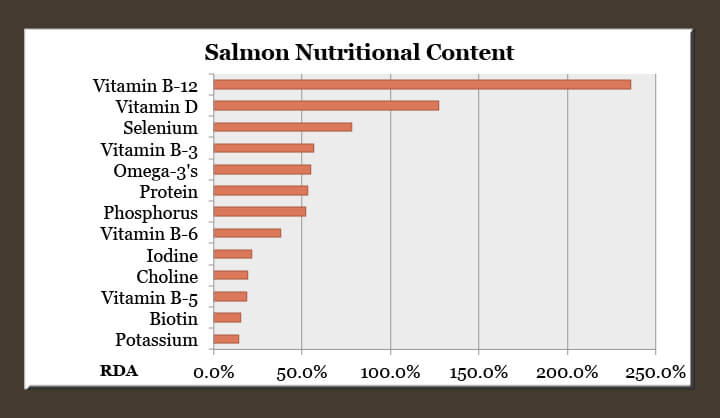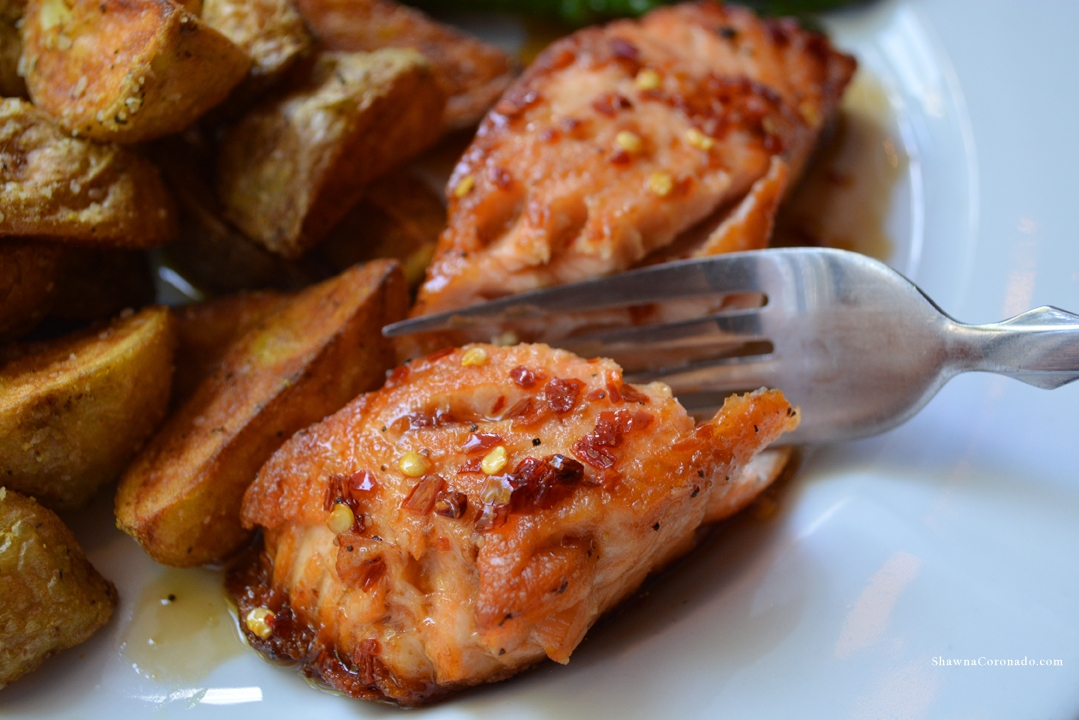 Next time you travel to Albany, Oregon, be sure to check out Cellar Cat, which is a delightful little cat-themed restaurant based on a vineyard's very important security guard – the cat (below). Surrounded by beautiful brick walls, cat themed art, and Cellar Rats (wine makers), the venue is warm and filled with delicious. Get to Cellar Cat soon to check out their fanciful cocktails, tasty wine, and baked salmon yumminess.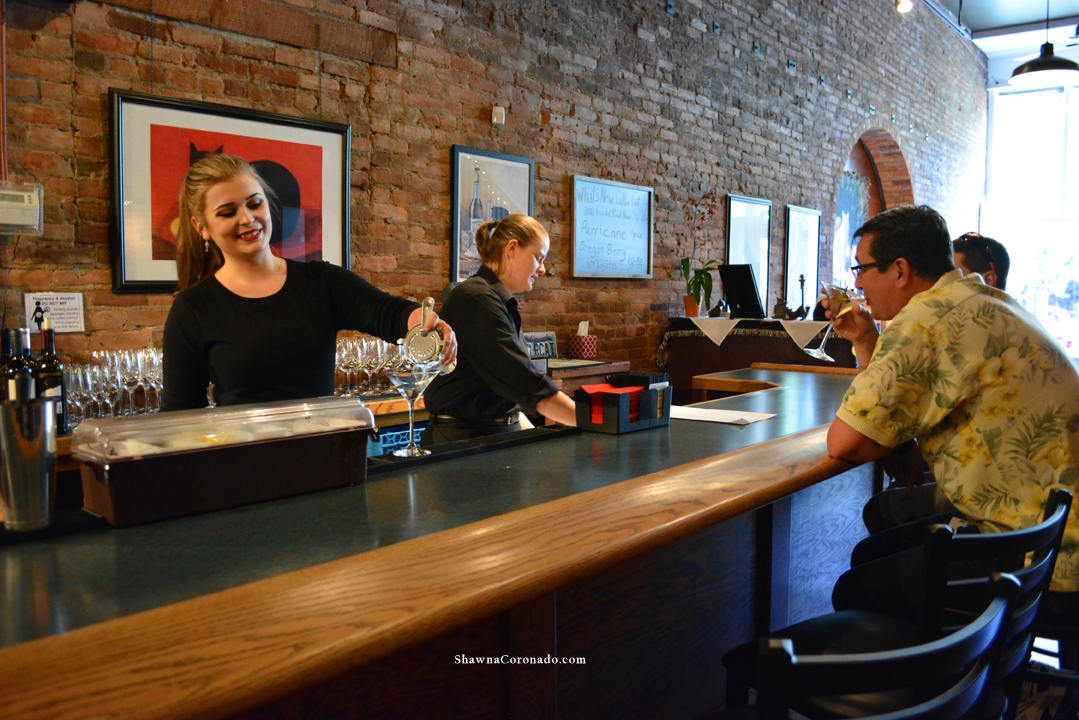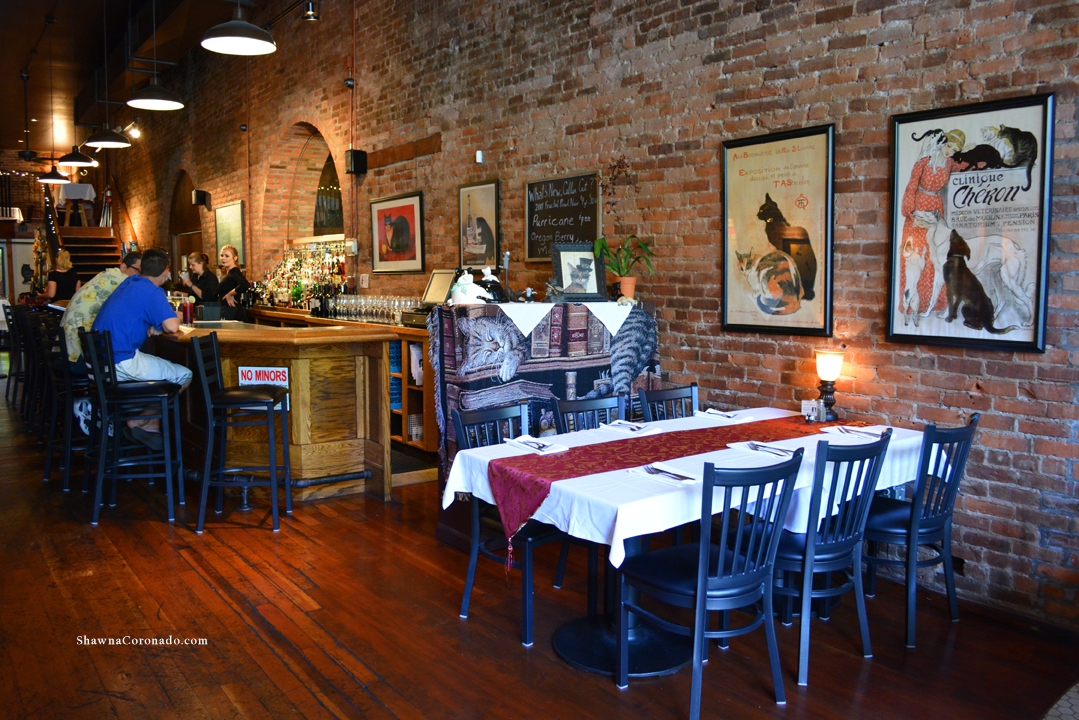 Save
Save
Save
Save
Save
Save