This season I was thrilled when I received three very special garden tools in my mail box; the Original Kombi shovel, the Mini-Handle Kombi Short, and the Kombi Hand Trowel.
In 2006, the Original Kombi won the special honor of being on Joe Lampl's "Best of the Must-Have's List", and in my opinion it was a deserved award.
There are six varieties of Kombi shovels which all have the unique quality of having a super sharp cutting area enabling the shovels to easily slice through soil, plants, and grass – making easy work of most garden chores.
Testing the products for six months, I can say I have put these baby's through the wringer. They have ridden in the back of my car across several states, gone into every garden bed I have, and helped me with community garden work this summer. Perfect for fall clean-up, the Kombi really digs in and helps pull out the roots in the vegetable garden.
My official review: two thumb's up for a fantastic set of tools! My only caution is to be careful with the blade – it makes you feel like a garden ninja for sure – but it's extremely sharp and must be used cautiously. See the above video for a demonstration.
A Kombi would be a great gift – If you would like to get a Kombi  for a favorite garden ninja (or for yourself), go to the Kombi online store at http://kombigardentool.com or phone (706)-754-2875.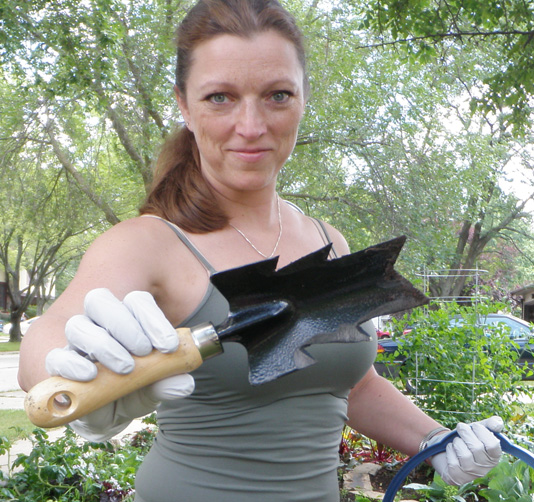 *These products were sent to me at no cost – I tested them rigorously for six months in the garden. My review is wholly honest, my own opinion, and not based on additional payment from the Kombi company in any form. In fact, my agreement with them is that I would review their product in a totally honest fashion, keeping my readers and viewers needs at the top of the priority list when considering this product's recommendation and use.