Disclosure: This post may contain affiliate links from which I earn a commission.


When I was a little girl, one of the most memorable times on the farm I grew up on in Indiana is the smell of my grandmother's peonies. Simply heady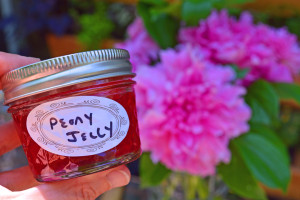 and amazing; filled with such a powerful smell as to knock any thought out of your head except SMELL and SMELL AGAIN. We are well into peony season and my good garden friend Kylee Baumle from Our Little Acre posted an amazing blog post on how she made Peony Jelly. You must link through and read her entire post as she shows what type of petals she collects and all the details. And PEONY JELLY!?!?!?! Say WHAT?!?! I never knew the stuff existed.
My youngest daughter carefully reviewed the recipe and announced she would make it at Grandma's house and bring it home for me post haste. A trip to Grandma's was scheduled and, indeed, she brought some home (see right). It tastes marvelous, kind of a combination of peaches and tutti-frutti. It's a perfect ingredient for a pink martini – below is the recipe and a video showing you how to throw together the pink martini in just a few minutes. If you are receiving this post via email you might not be able to see the video unless you come back out to the website to view it.
How To Make a Pink Martini Cocktail Recipe
1 or 2 tablespoons fruit, muddled (may add herbs such as mint or basil for added flavor)
Pomegranate Vodka – 2.0 to 3.0 oz
Pomegranate Juice – 2.0 to 3.0 oz
Peony Jelly – 1 to 2 Tablespoons (may substitute strawberry or raspberry jelly if you do not have peony jelly.
Ice
Muddle berries (and/or herbs). Add all other ingredients in a Mason Shaker. Shake well until jelly combines. Strain ice out when you pour into martini glasses.
Peony Jelly Recipe (Kylee's full and detailed recipe can be found here with some great photos of the process)
1 quart of peony petals
5 cups of boiling water
3 Tbsp. lemon juice (juice of one lemon)
3 cups granulated sugar
1 package of liquid pectin or 2 Tbsp. powdered pectin
Pour the boiling water over the peony petals. Let steep overnight. Strain liquid through cheesecloth in the morning. Add juice of one lemon and sugar. Bring to a boil until sugar is dissolved. Add pectin. Whisk in. Bring to a boil again until liquid can coat a spoon (about 3 minutes). Pour in jars and let cool before capping.

The Damned Cool and Super Nifty Mason Shaker
And so. Isn't that Mason Shaker really wonderful? I first fell in love with it because of Theresa Loe and her delicious Jamtini recipes that she shares over on her Living Homegrown Blog. Here is a link to her world famous jamtini recipe. When I found out The Mason Shaker is an actual product I emailed the manufacturers real quick-like and got my own to test-out and shake around town. It's super easy to use and a bartender can actually fit about 3 martini's in the container for the big mix up. They also sent out the muddler and jigger you see used in the video. Thanks Mason Shaker peeps – fantastic product to shake it up and I can't wait to mix up some more cocktails with it!
Special thanks to Groproducts.com for the vertical wall garden unit that is a part of my front lawn video production set. The adorable mini-ice bucket is provided by Bodhi Tree Collection and is a small spun bamboo canister.  All herbs and vegetables in my garden this season come from the J.W. Jung Seed Company including the amazing plants behind me in the vertical wall unit. Making a pink martini surrounded by herbs smells delicious!