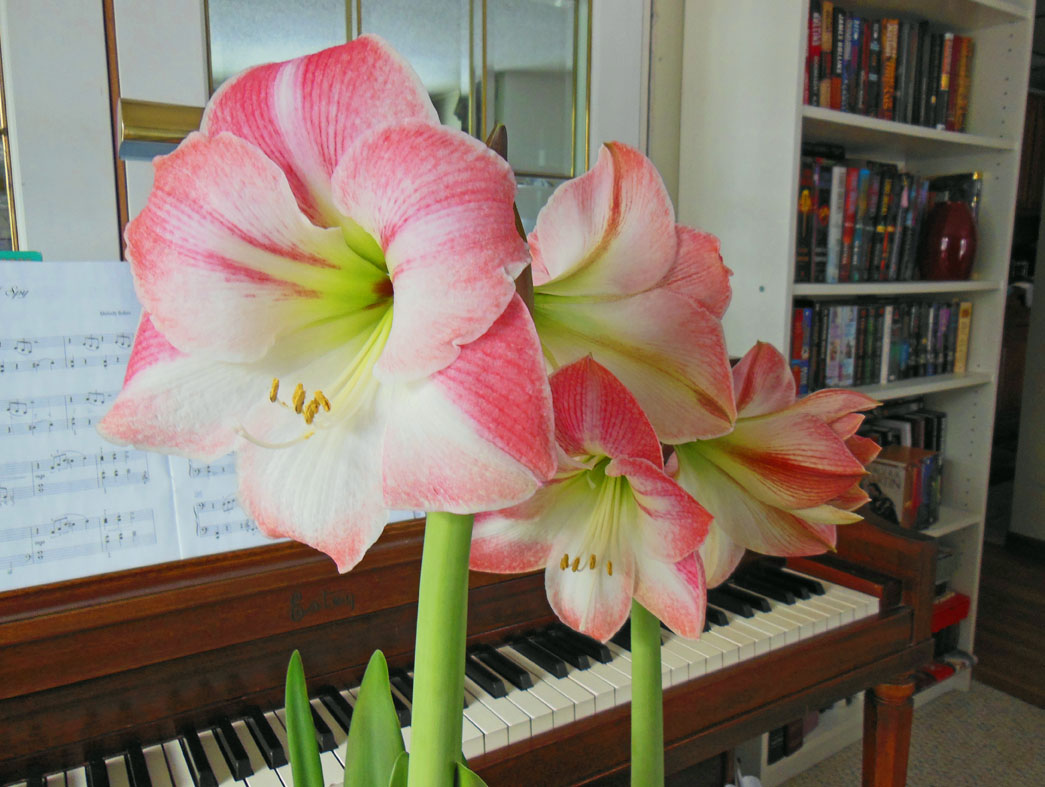 Amaryllis is an amazing plant – this 'Apple Blossom' variety has blooms as wide as my outstretched hand. Known as a houseplant which is primarily given and grown near Christmas, it is far more versatile than that and can be grown year round and even in your outdoor garden beds. I grew these amazing Amaryllis from Longfield Gardens in February because I am currently locked in the dank, dark, horrid days of a Chicagoland winter – I miss those warm days of Spring and this Amaryllis gives me a little Spring-love smack in the middle of snow season.
Each stem produced four or five flowers and one of the bulbs produced a double stem. As an added bonus I have two baby Amaryllis stems starting up in the side of the container (see below photos). Will the babies also produce a flower? I have no idea – it is a happy plant experiment. Below is a guide on how to grow an Amaryllis. Be sure to try growing them outdoors in the summer too – my mother-in-law has a lot of success growing Amaryllis in her traditional garden beds.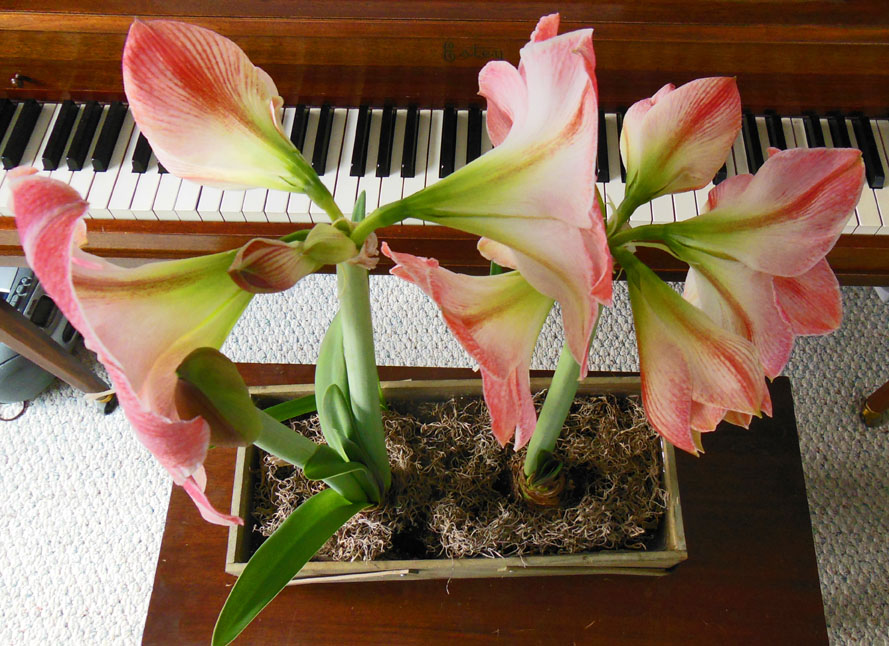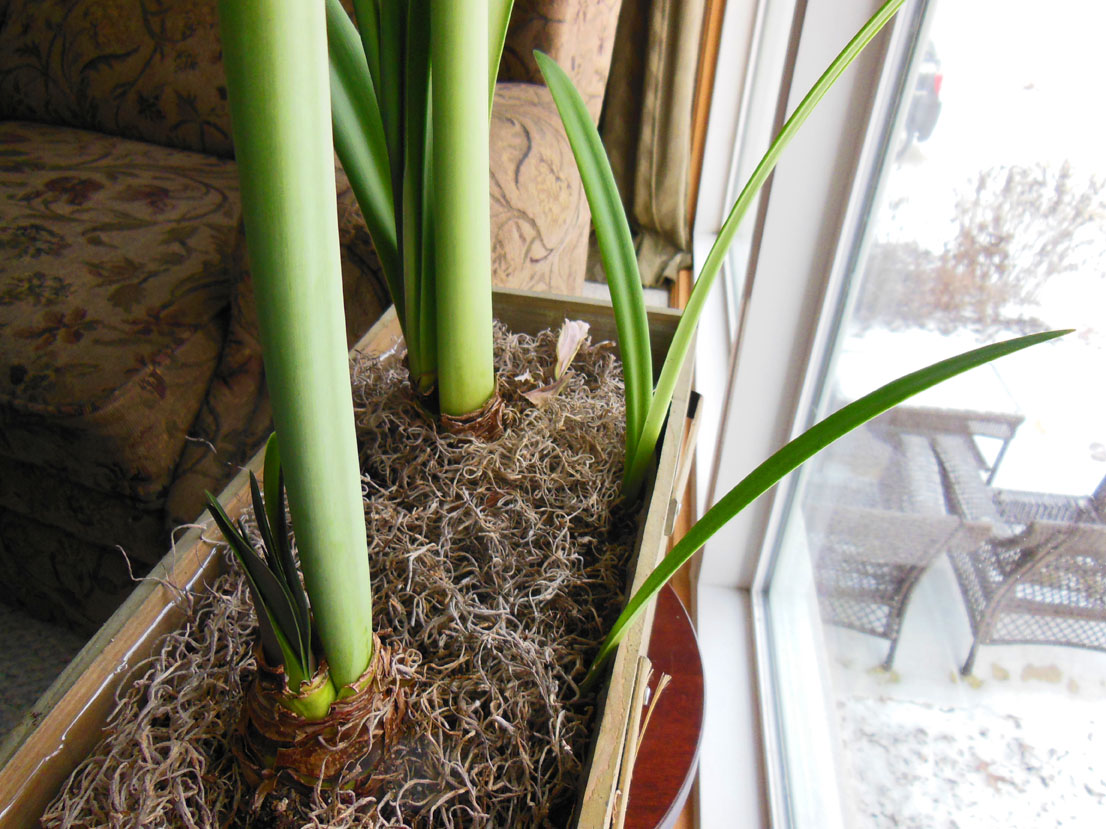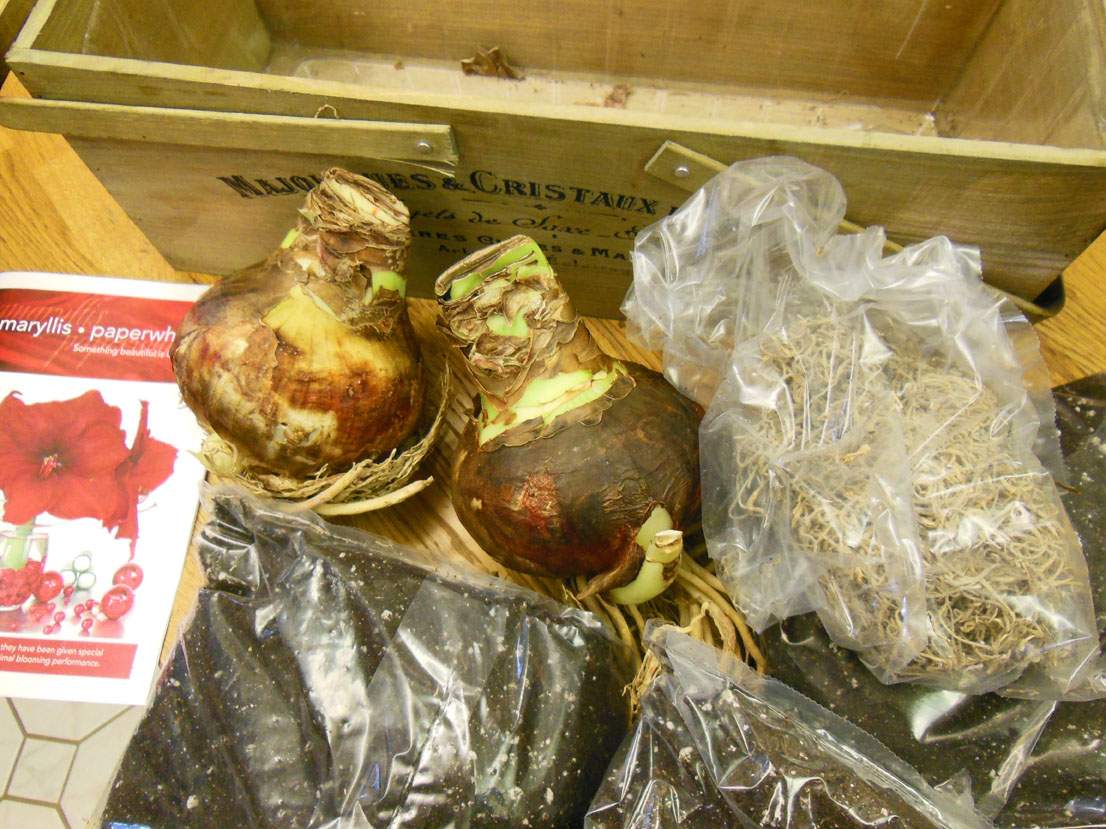 Amaryllis….Planting is as easy as 1, 2, 3!
1. Fill the container ¾ full with potting soil.
2. Place the bulb in the potting soil and cover with potting soil. Make sure to leave the tip of the bulb exposed. For Amaryllis, there should be one bulb for a 6 inch pot. Cover with decorative moss (optional).
3. Water so that the soil is moist. Do not over-water. Place container in a sunny location in your home.
AMARYLLIS OUTDOORS IN PLANTING BEDS
It is easy to grow Amaryllis outdoors in your summer planting beds as well. My mom-in-law, Delores, grows a large stand of Amaryllis in her Victorian garden ever year.
When danger of the last frost passes, plant the Amaryllis directly in the soil in your garden. A sunny spot is best, but partial shade will do. Use an organic fertilizer if you want, but it is not necessary. Before the fall frost sets in, dig up the bulbs and place them in a cool, dry spot to over-winter. My mom-in-law puts them in an old box up in her attic. Happy growing!
Special Note – Because the FTC requires it, I am letting you know that Longfield Gardens supplied the Amaryllis bulbs and growing kit for this post. I would buy and grow these gorgeous plants even if I had not been given them at no cost. Bottom line – this is an honest review just for you.