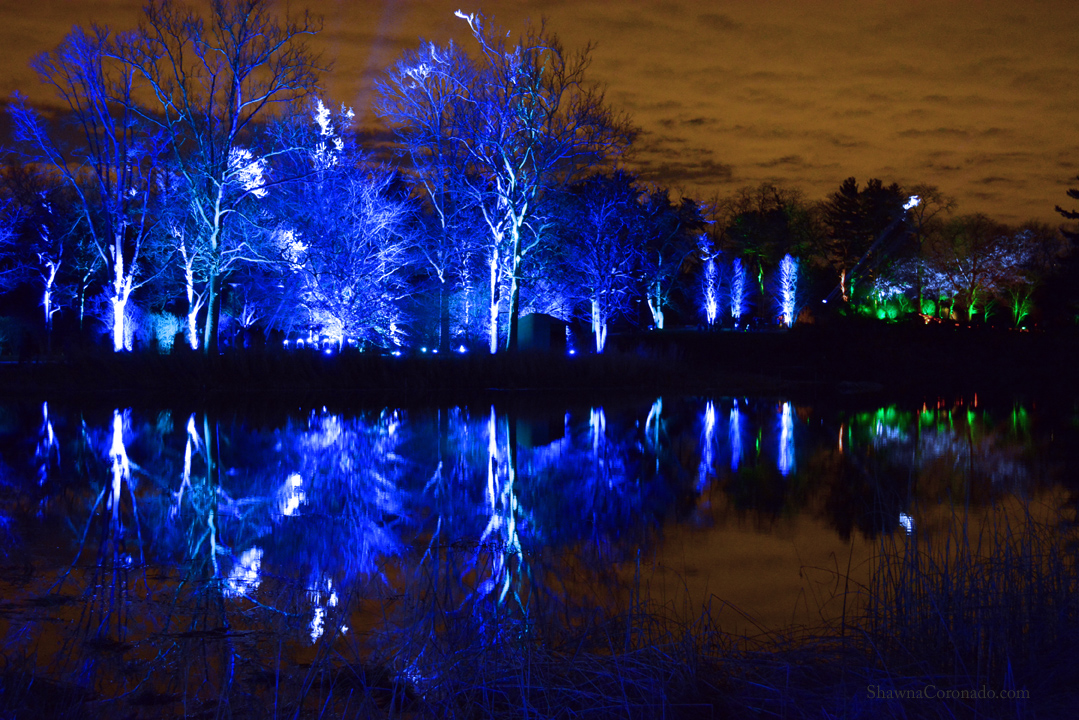 Morton Arboretum has a dazzling holiday lights event featuring water and trees being lighted with an astounding led light show. This year was better than ever. Beyond trees being lighted up, the lake was filled with animated streamers of light (see below), which really amazed the crowd. This season it has been warm so far which was a wonderful bonus; we went with a hat and a coat and felt deliciously warm the entire evening.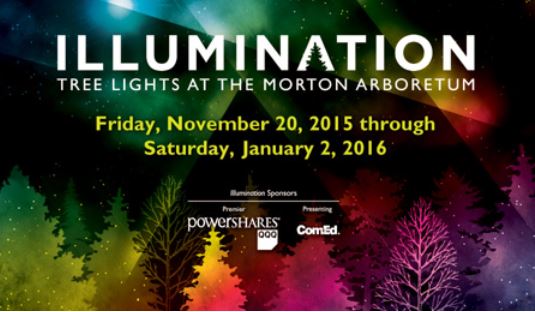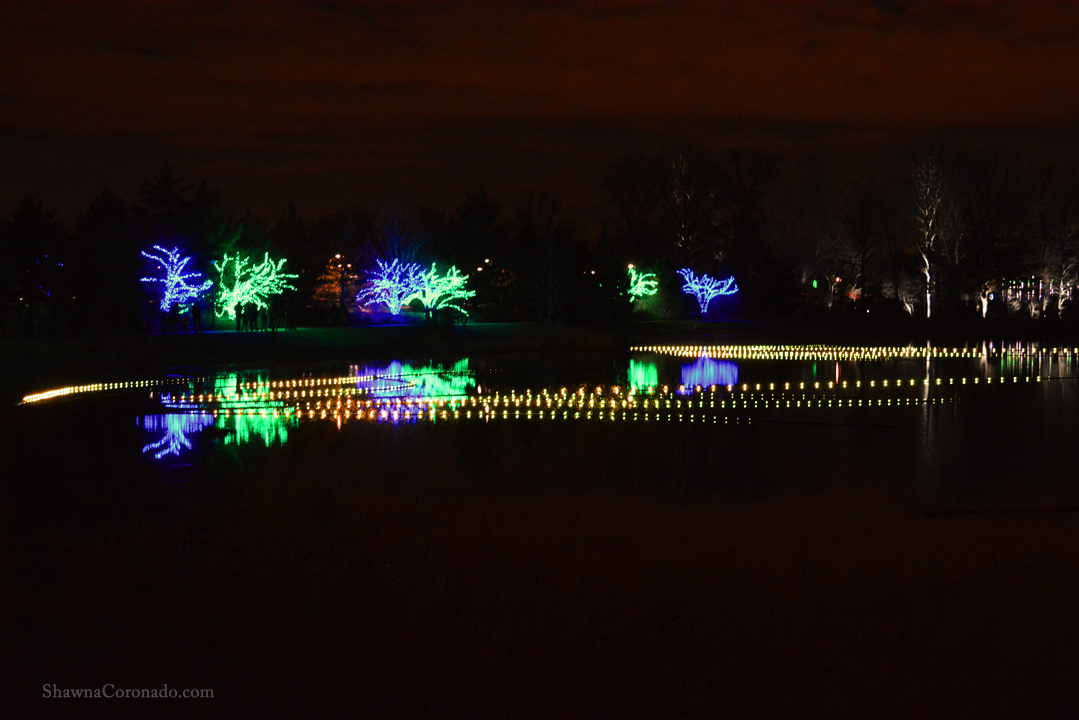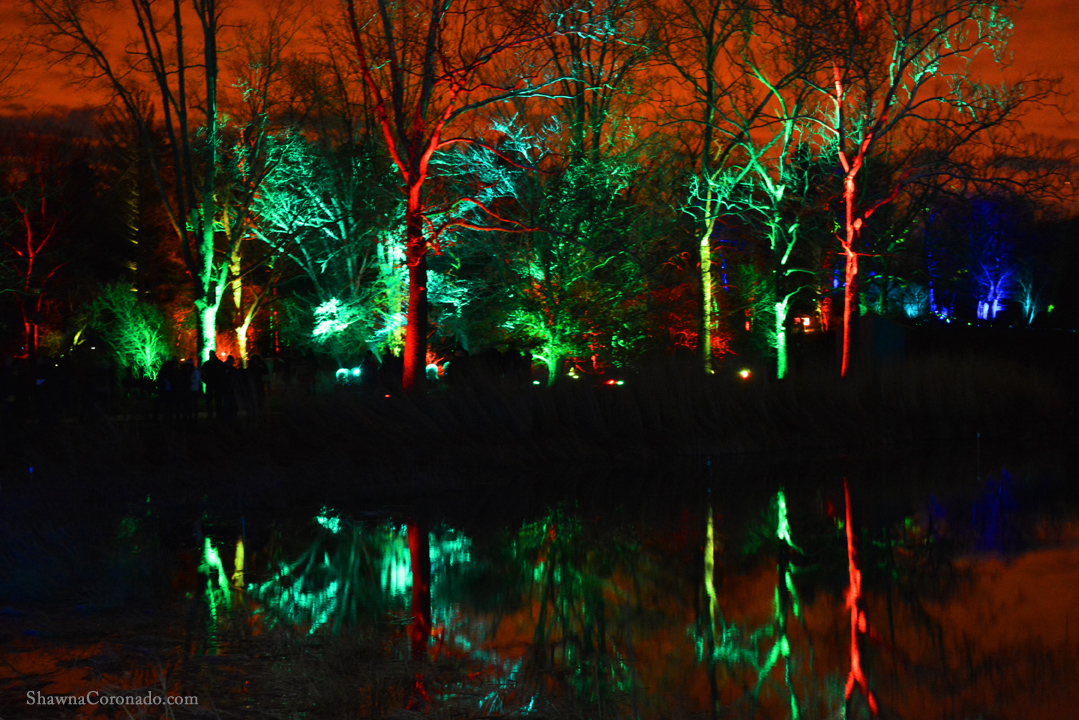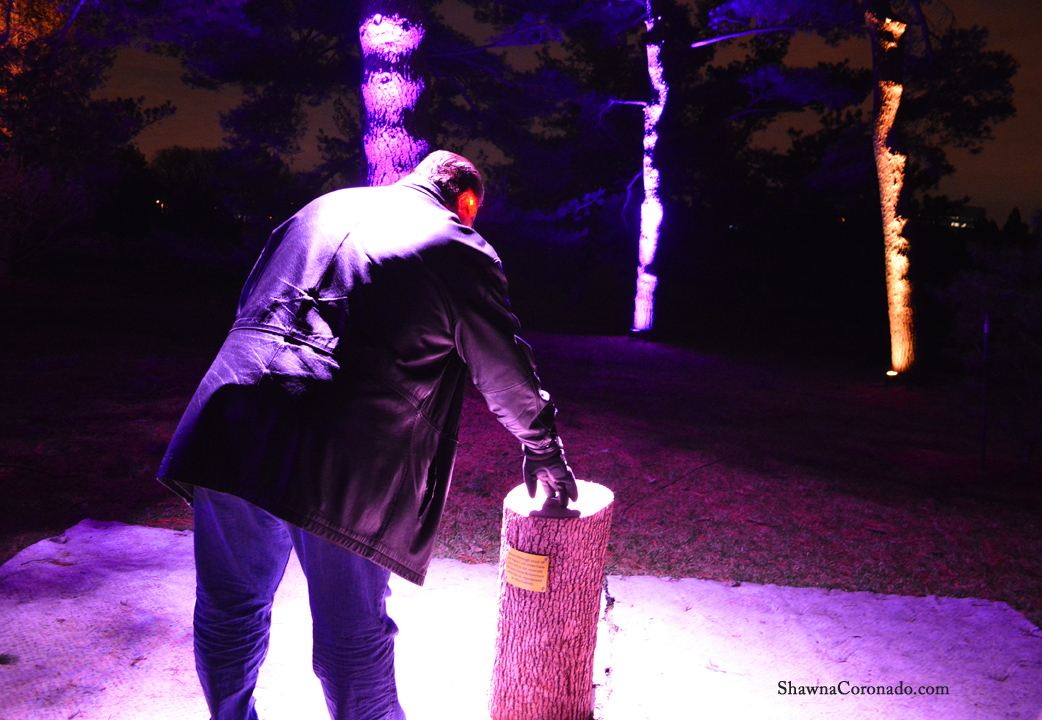 One of the best things about the event is the level of participation attendees can enjoy. Above you see my husband pushing a button which changes the color designs on the trees and he was also bathed in various colors of lights. Children were fascinated by the activities and adults were charmed. Below is my mother-in-law and sister-in-law tree hugging. When you hug the tree, the lights around the tree change colors.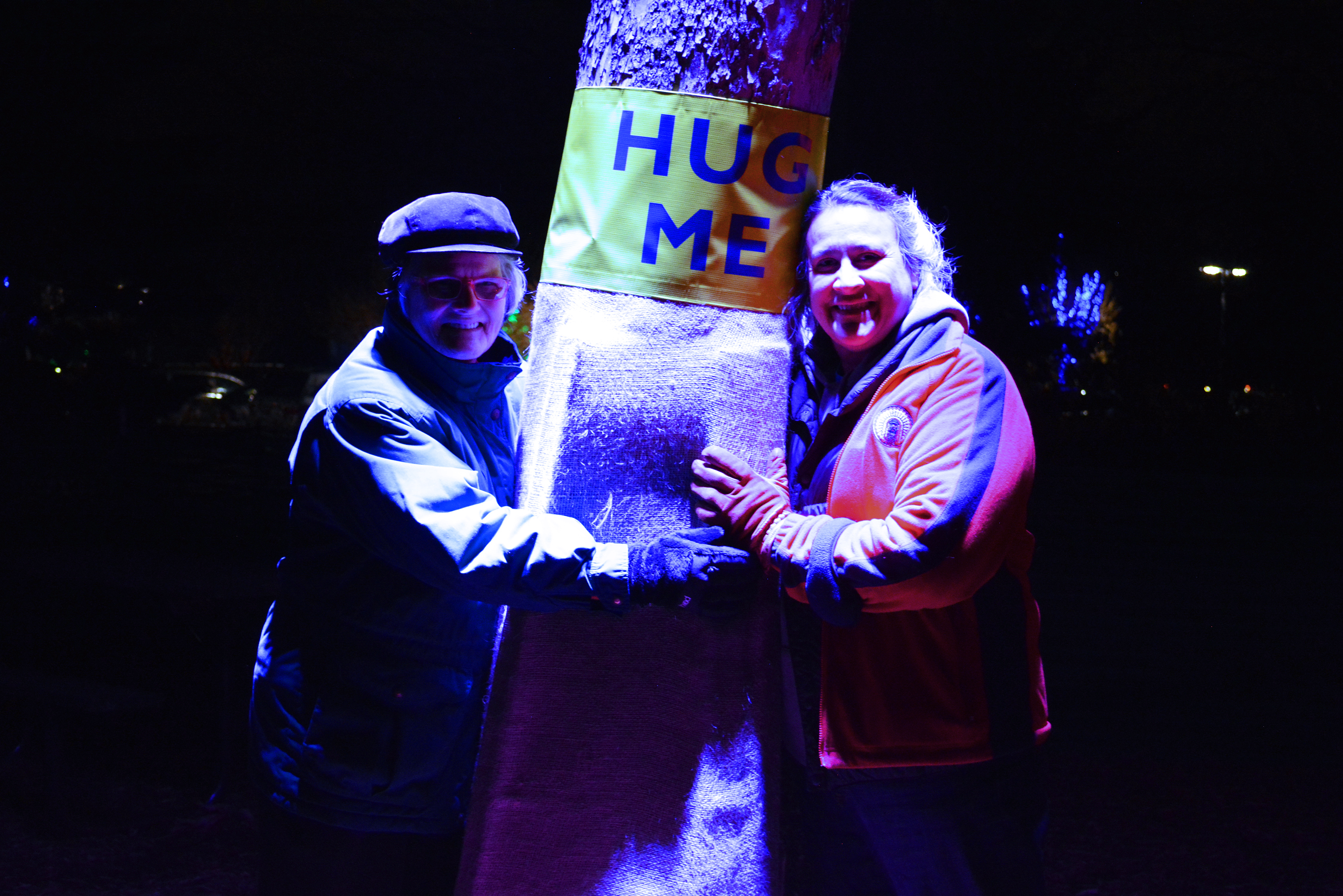 From November 20, 2015 through January 2, 2016, The Morton Arboretum glows with dazzling LED lights and trees that respond to your touch and voice, as Illumination: Tree Lights at The Morton Arboretum returns for a third  year. Along with tree magic, we particularly enjoyed the Frozen Robins, a holiday singing group that features one of my garden radio friends, Mike Nowak (see below right).
See trees in a different light –
Stroll over a mile of innovative lights and projections.
Hug or sing to trees, and they respond.
Enjoy new music from the Chicago Symphony Orchestra.
More music, motion, and magic fill the winter woods!
Create memories your family will cherish for years.
Share the perfect holiday date night.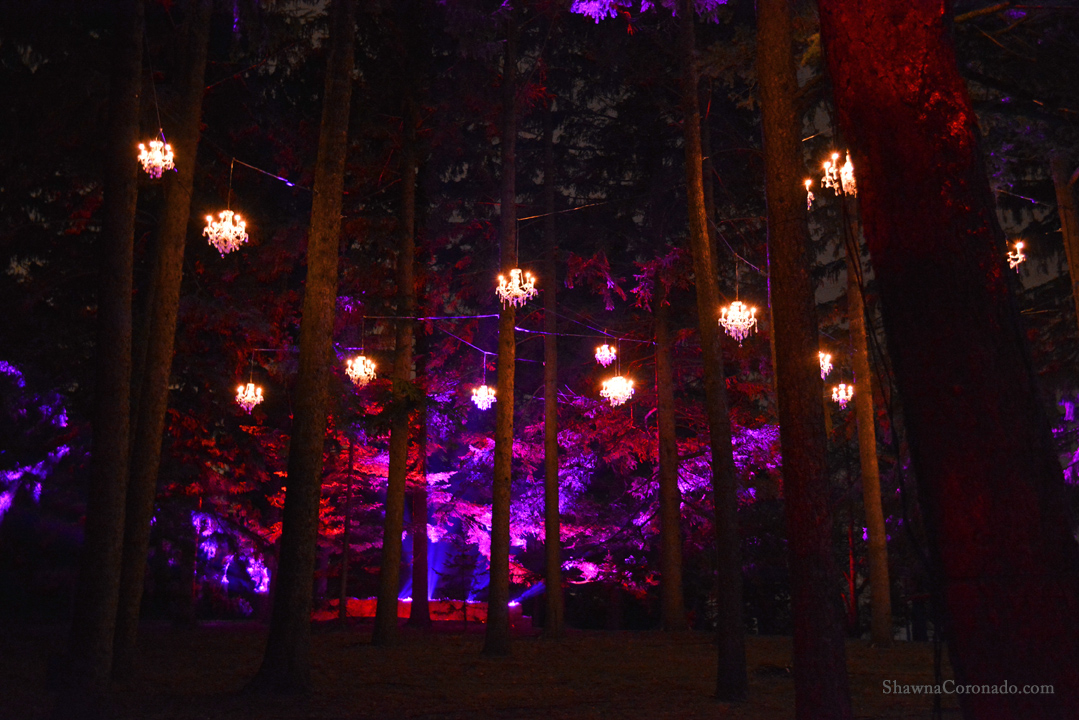 My favorite part of the walk with holiday lights is the Chandelier Tree area (see above). Below is another favorite – color changing balls in a sea of lights on the ground. They looked like stars in the sky to me. I was unable to record music this year at the event, so at I'm attaching last year's music and light show below so you can get an idea of how wonderful it is.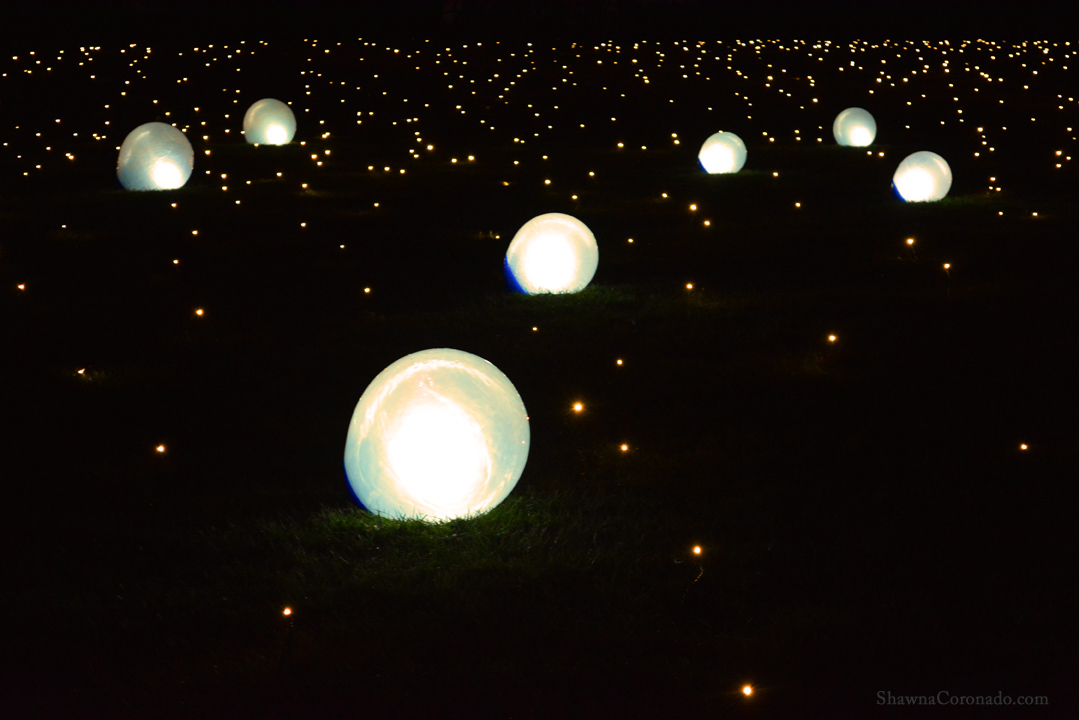 Holiday Lights Schedule –
November 20, 2015 through January 2, 2016*
Doors open: 5:00 p.m.
Last entry: 8:30 p.m.
Lights out: 9:30 p.m.
*Closed Christmas Eve, Christmas Day, December 7, and December 14.
Go to this link for all the holiday lights and sound details – www.mortonarb.org/events/illumination-tree-lights-morton-arboretum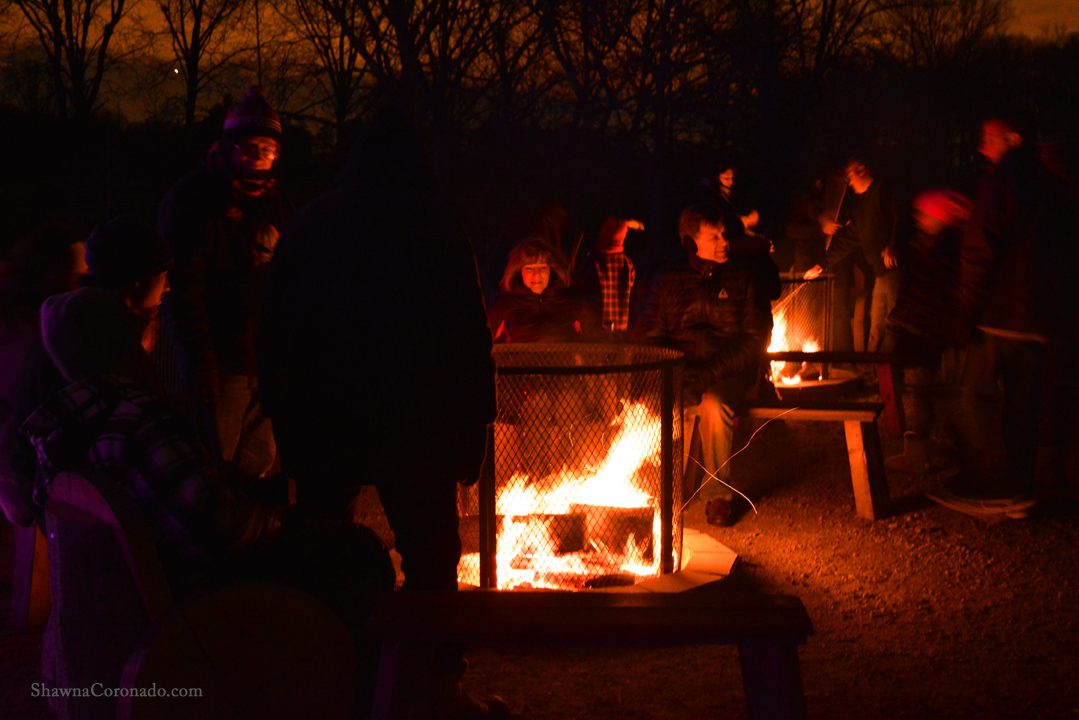 Warm your hands by the open fires, roast marshmallows, have a peppermint schnapps filled hot chocolate at one of the many food tents. Morton Arb has done it up right. Definitely go see this jaw-dropping holiday lights experience at the Morton Arboretum is you are in the Chicago, Illinois area this season – it makes an exciting adventure for the whole family.