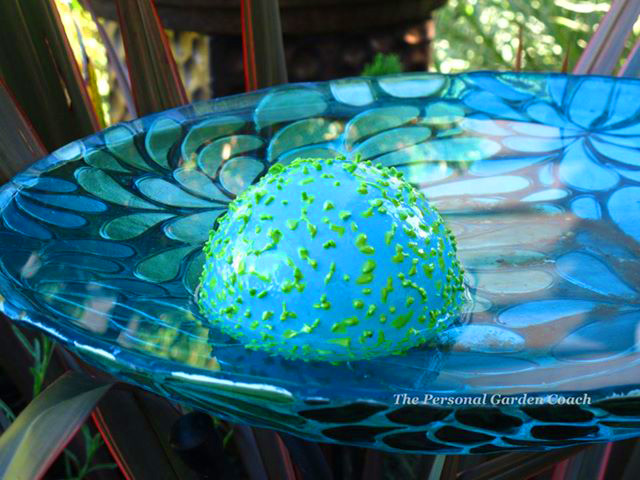 Glass bee preservers from Glass Gardens NW are a great holiday or Christmas gift idea. Attracting honey bees to your garden is a good idea if you would like better pollination of your flower plants and vegetables. Additionally, rescuing bees and other pollinators makes a lot of sense – we have a world pollinator crisis going on.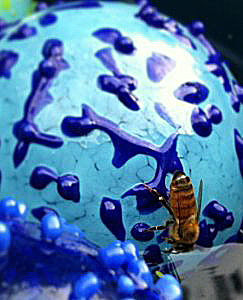 Bees need water, but many water sources do not have a landing area for bees and they can drown in deeper water. Bee preservers are wonderful glass balls with bumps on them that float on top of a water source and allow honey bees to crawl to the water without drowning. (Photo credit above – Christina Salwitz.)
By adding about ten to twelve drops of lemon grass oil – an essential oil you can find in many health food stores – you can attract honey bees to your water source. Their sense of smell is super powerful and the lemon grass oil is similar to a pheromone that honey bees use to attract a swarm to a new home. If you would prefer not attracting honey bees to your garden and just want to provide an open source of water for pollinators of all kinds, be sure to freshen water regularly in bird baths or other water garden areas where a bee preserve might float. Fresh water is essential for the life of the bee. (Photo credit for the photo below – Robin Haglund.)
My friend Barbara Sanderson hand blows these lovely bee preservers and they make a delightful Christmas or holiday gift. Order your bee preserver for $13.95 by going to this LINK. Happy Holidays my friends!