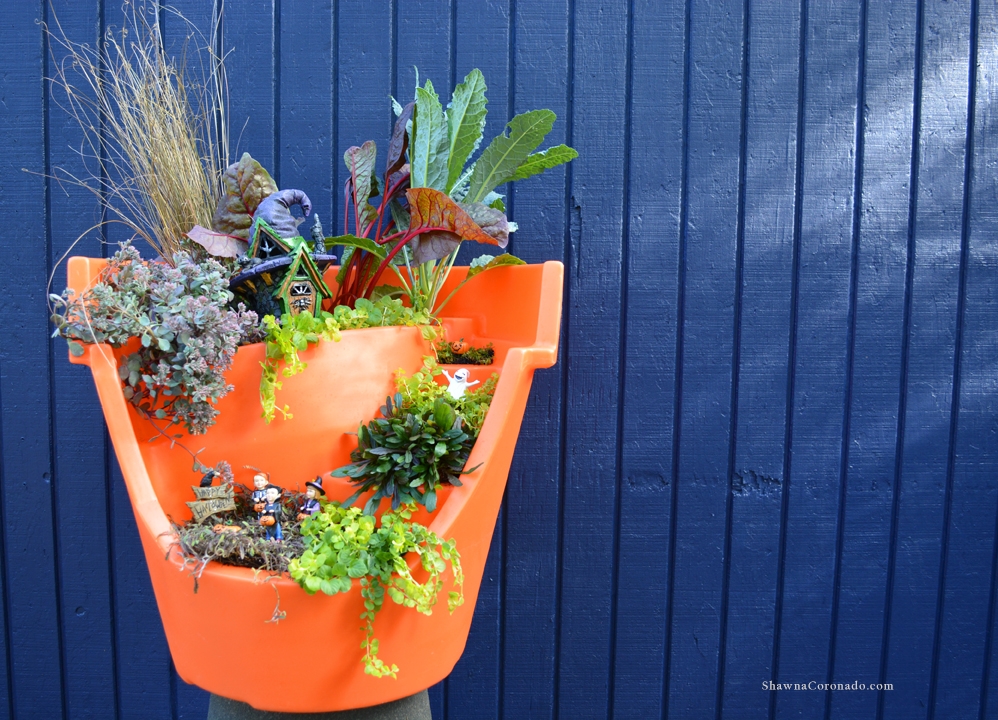 This year I met a wonderful woman at the Independent Garden Center Show in Chicago; Denise English from Eco Personal Garden. She is a new garden product vendor who loved the broken pot container fairy garden trend but was challenged trying to create a broken pot container garden design herself. It can be really difficult because the pots rarely break just where you would like them to. Denise had an idea for the garden world – make it easier to build an adorable broken pot container garden.  Using a molding process, Denise and her team create plastic, food-safe, broken pot garden containers that are 20″ tall and come in three different colors. Since creating them she's received a lot of interest and has started to build her business and social media following (here's a link to the new Eco Personal Garden Pinterest page).
How to Create a Halloween Broken Pot Container Garden
Drainage holes are in the containers, however, if you want a few extra drainage holes you will need to drill them yourself with a drill and drill-bit
Place potting soil in the bottom of each pocket within the garden container
Add plants, putting the tall plants in back and the groundcovers in front. I used plants which will do well through the colder fall season — Grasses; Ornamental edibles – Dinosaur Kale and Swiss Chard; Groundcovers – Brass Buttons 'Platt's Black', Creeping Jenny, Ajuga 'Chocolate Chip', and Sedum.
Focal point works best in the front bottom pocket – I wanted trick-or-treaters to be the focus with what looked like a little path moving up to the witches house
Water in well and wait for the adorable front door visitors to fall in love with the Halloween container garden.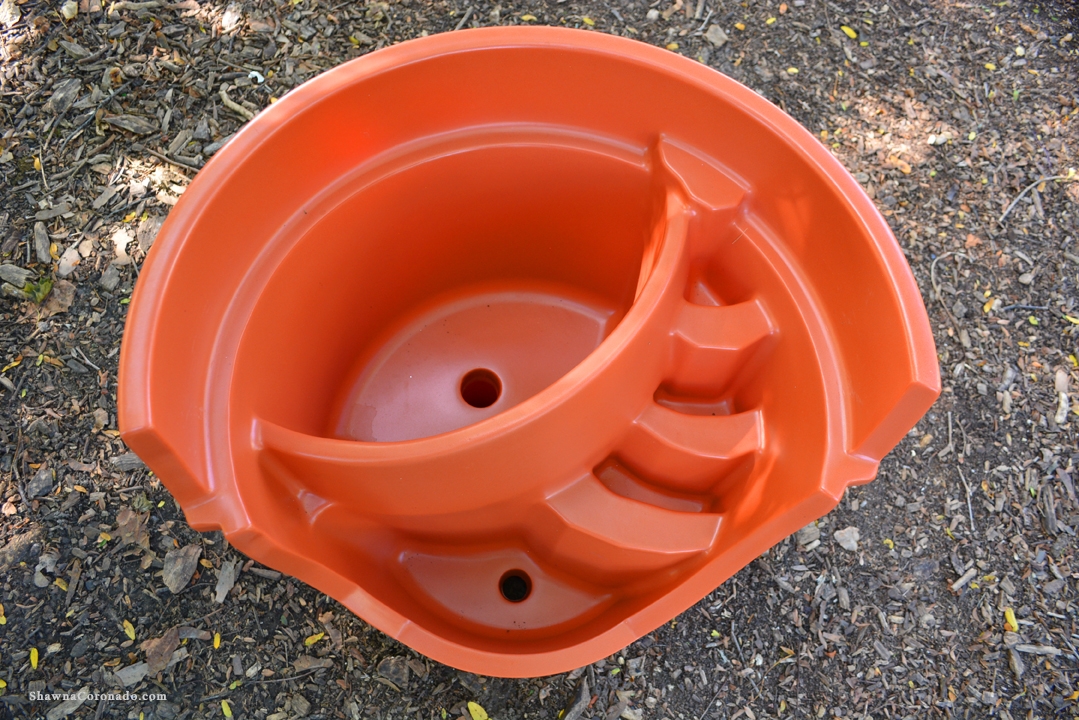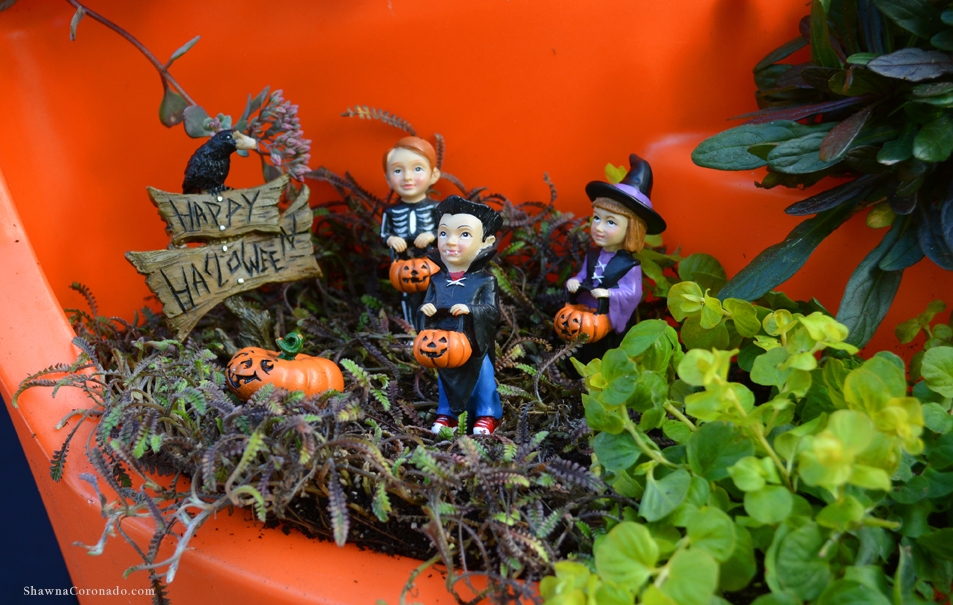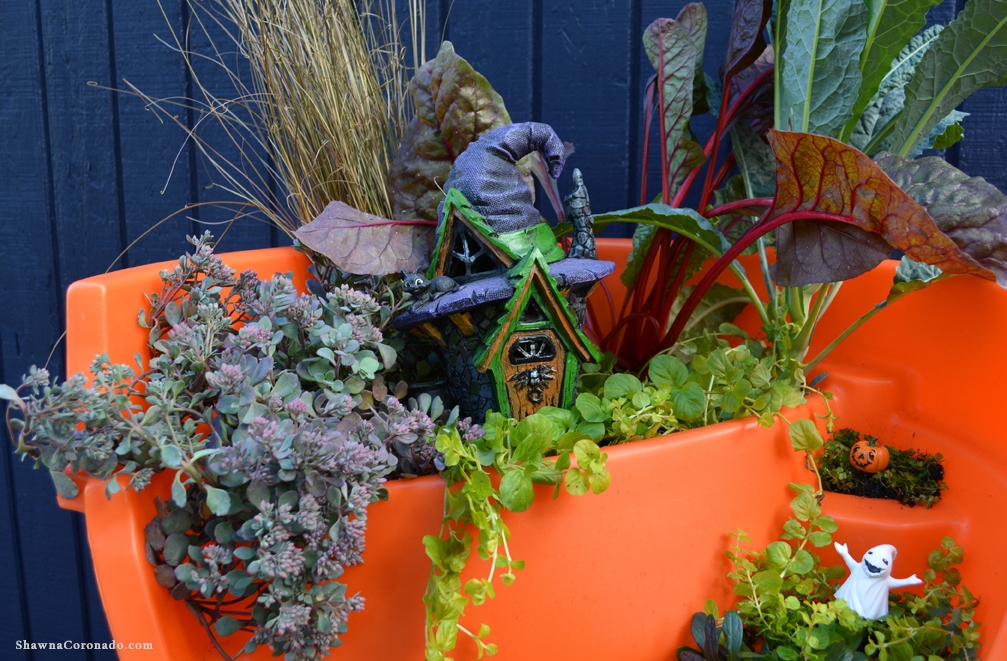 One of my favorite resources for fairy supplies is Planters Palette in Winfield, Illinois. Feel free to reach out to them via their website and order up some adorable fairy accessories like these ghosts, goblins, and Halloween houses or go in person if you live in the Chicago area. Special thanks to the team at Planters Palette for allowing me to create this artistic Halloween container garden with their accessories. Halloween broken pot container gardens are a creative way to do gardening up right this fall and Denise is so passionate about her new product line. I love the creative containers and hope you will check them out at Denise's new online store – LINK HERE.

Save
Save
Save
Save
Save
Save
Save
Save
Save