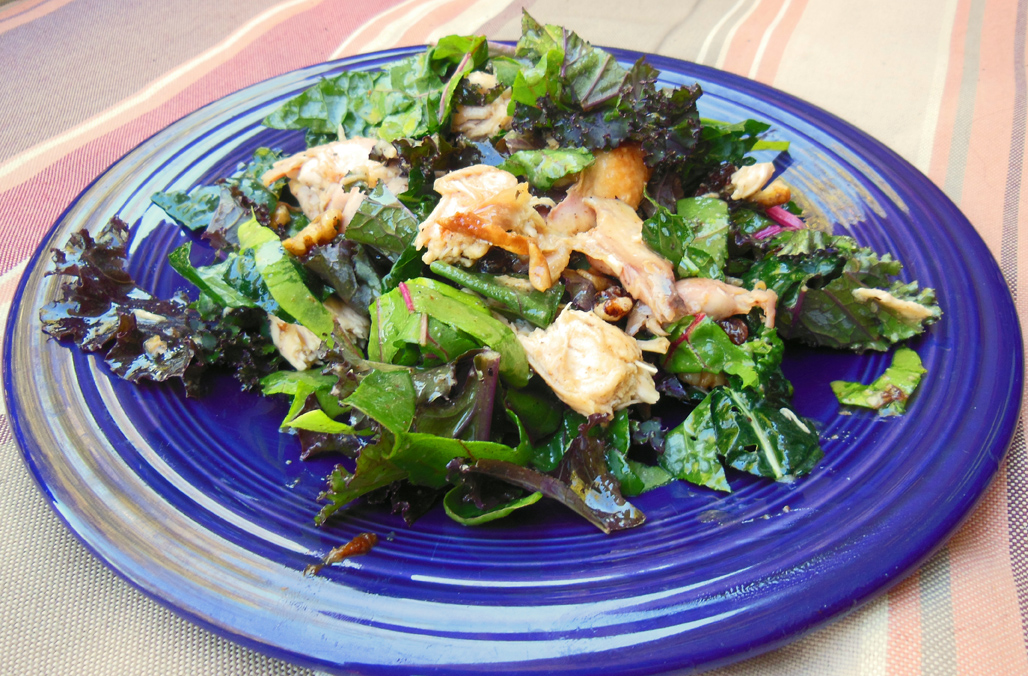 WOW! Late September and my front lawn vegetable garden is bursting with flavorful and delicious vegetables. Two of my favorite vegetables – and most nutritious – are kale and swiss chard. Fresh from the garden and fully ripe, they enhance your culinary dishes with healthiness. This recipe for Kale, Swiss Chard and Rotisserie Chicken Salad is REALLY GOOD! My two assistants who helped me put together the filming of this Google+ Hangout culinary video almost all the salad afterwards. With second helpings.
Usually I cook vegetables like kale and swiss chard, this time I leave the salad raw, except for the chicken of course. It would be easy to make this a vegetarian and ALL RAW dish by pulling the chicken and keeping everything else. Are you drooling yet? I am! You will find me in the kitchen eating thirds!
RECIPE –  Kale, Swiss Chard and Rotisserie Chicken Salad
Ingredients
Dressing
1/2 cup balsamic vinegar ($2.00)
2 teaspoons honey ($.50)
Salt and pepper (Free)
1/2 cup extra virgin olive oil ($.50)
2 T mustard ($.20)
Salad
1 bunch Swiss chard, sliced into thin strips ($.10)
1 bunch kale, sliced into thin strips ($.80)
½ a rotisserie chicken, shredded (Whole is $4.99 at Costco – half chicken  $2.50)
1/3 cup raisins ($.20)
1/3 cup chopped walnuts ($.28)
Total cost – $7.08
Instructions – 
Slice vegetables and shred chicken.
Place in salad bowl.
Mix dressing ingredients together with whisk or fork.
Pour dressing over salad ingredients and toss.
*Above is the video and recipe we made for this delicious salad. It serves 4 to 6 people. All vegetables from my garden are grown organically and I am basing the price of each vegetable on how many veggies it typically yields per plant, divided by the plant cost at planting time. I count salt and pepper as "free".
Hangout Participants –
Special thanks to the adorable Annie Haven ( http://www.manuretea.com) who participated in our culinary Google+ Hangout this week.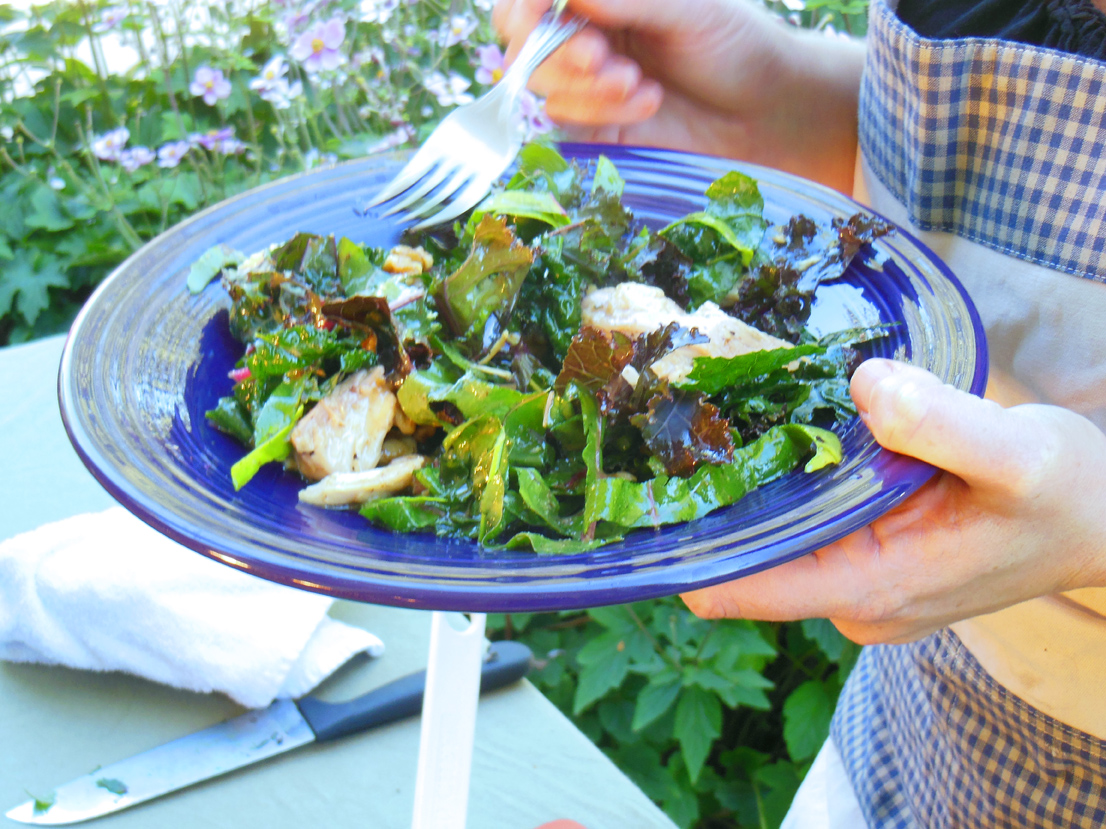 Special Note – Because the FTC requires it, I am letting you know that Jobes Organic Fertilizer,  Bonnie Plants, Organic Mechanics Soil, Midwest Trading, and Natural Industries supplied the plants, mulch, soil, and soil additives I used in this garden. I have used their products because I WOULD even if they had not given the products to me and they have produced great success. I donate a large portion of the vegetables I grow in my soil-improved garden to the local food pantry when harvested. All opinions are my own!