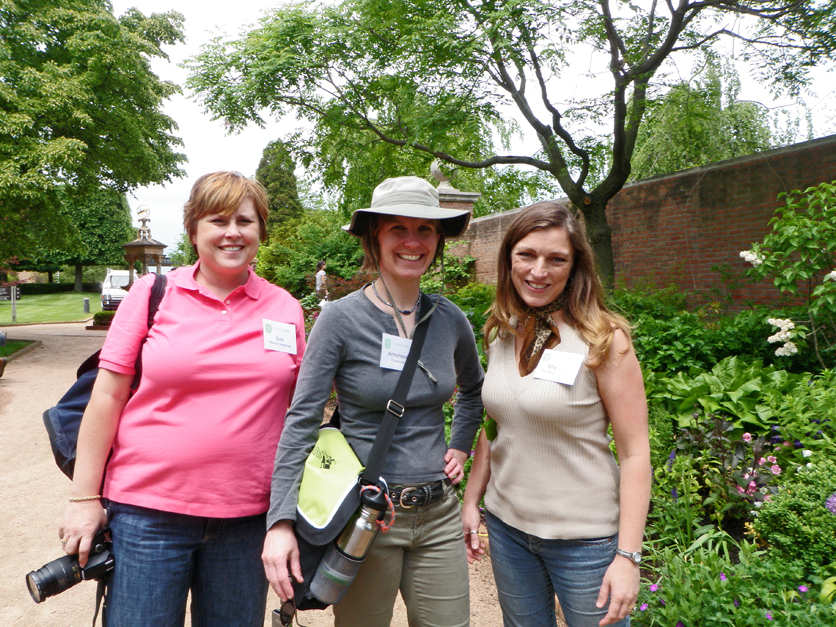 Dee Nash is a fabulous garden writer and a good garden friend. I first met her at a garden blogging event in Chicago in 2009  and we have been friends ever since (see her [above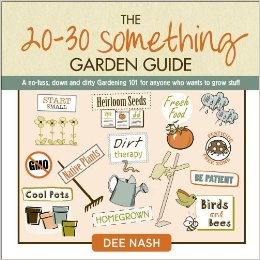 left] with Anneliese Valdes from Cobrahead [middle], and me); she is filled with an astounding amount of garden information and is particularly knowledgeable about drought tolerant gardening. She's asked me to participate in a fun Virtual Book Party online promoting her latest book, The 20-30 Something Garden Guide: A No-Fuss, Down and Dirty, Gardening 101 for Anyone Who Wants to Grow Stuff. You can enter to win the contest below PLUS there is a round-robin contest and prize give-away if you go to the other blogger pages listed below where you might win more garden prizes!
After reading the advanced copy of the book I absolutely love the full-color photos and great descriptions Dee has included. The pages are easy to read and artfully designed. This is a great how-to guide for the beginning gardener. She teaches readers how to do everything from building a seed starting station to planting a balcony to installing raised beds to creating a front lawn vegetable garden. And YES – my front lawn veggie garden is in the book on page 54. I'm so very excited to have my photography and garden ideas included in this fantastic little guide – HOORAY! I hope you will consider ordering her book and give a spring gift to yourself. To order, just follow this LINK.
Below you can see where Dee has joined with a few terrific garden bloggers across the interweb to give away a bunch of fantastic prizes and have a Virtual Book Party to celebrate the release of her awesome new book.
~THE PRIZE –
The prize for this give-away contest celebrating Dee's new book is A GARDEN!!!!!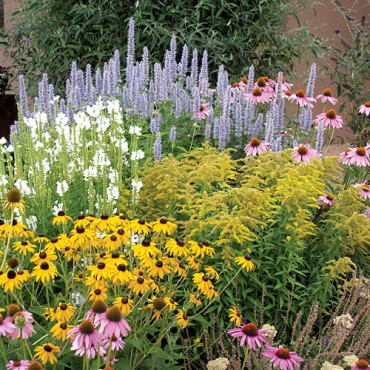 High Country Gardens is giving away the Summer Dreams Pre-Planned Garden worth $59.92.
Here's the description of the butterfly/pollinator garden from their website (see photo of the butterfly garden right) – "Get big, easy-care color from this garden designed for a small, sunny space. This small garden fits comfortably into a 5′ x 5′ flower bed. The garden comes into bloom in mid-summer and finishes in early fall. The flowers in Summer Dreams are the favorites of butterflies and honey bees!"
~HOW TO WIN THE PRIZE –
It is easy to enter to win the prize on this blog give-away. In the comment section below tell me what your favorite butterfly or bee attracting plant is and how its worked in your garden OR if you have never grown one, list the butterfly plant you dream of having in your garden.

This contest is only open to people living in the United States due to postal concerns.
I will randomly select a winner to the contest next week on Monday, February 24, 2014.
~AND THE RANDOMLY SELECTED WINNER IS… (drumroll please) –
Jamie Symons!!
HOORAY FOR JAMIE!!!
Also –
Several other bloggers are participating in this virtual book tour, each offering a different prize. Visit each blog below and leave a comment on the giveaway post for a chance to win that prize. The more blogs you visit, the more opportunities for you to win some goodies!
BLOGGER CONTESTS —