Today we take a step away from studying gardens and a step towards fixing a unique holiday meal. One of my favorite adventures this summer was visiting the Hotel Akumal Caribe and Lol-Ha Restaurant in Akumal, Mexico to learn how they bury a pig Mayan style and roast it slowly underground to prepare Cochina Pibil. If you are able to try something this adventurous and wonderful in your part of the world for a Christmas dinner, I highly recommend it. Without a doubt this was the most delicious pork recipe I have EVER had. The recipe you see in the video is a secret recipe, of course.
If you like, you can bury the pork like we have done in the video or you can prepare it in the oven using the recipe below. It's not the precise recipe made in the video, but close. Be sure to remember this recipe needs to be marinated overnight, so must be made ahead of time.
Cochinita Pibil is traditionally served with corn or flour tortillas warmed over the stove, and salsa – onion salsa is a particularly wonderful topping. Confession: I am drooling just thinking about this recipe. YUM!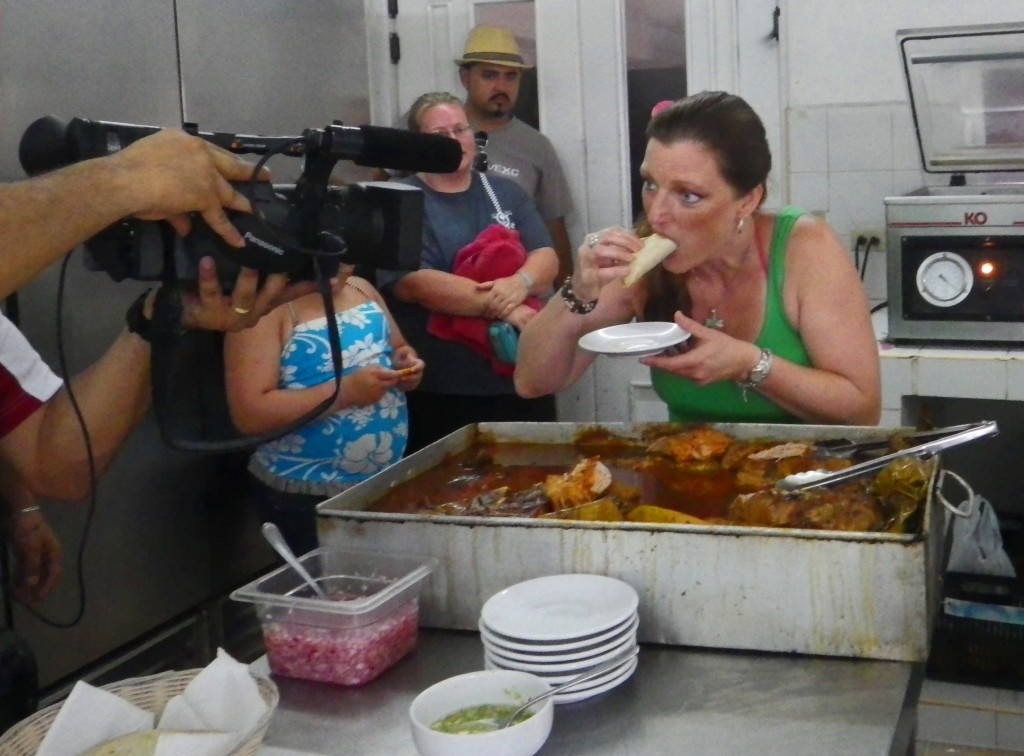 HOW TO MAKE COCHINITA PIBIL (THE BEST DARNED PORK EVER)
Ingredients:
Boneless Lean Pork – 4 pounds
Achiote Paste – 3 oz (you can find this at a Mexican grocery store)
Lime Juice – 1/2 Cup
Orange Juice – 3/4 Cup
Salt – 2 heaping teaspoons
Two large banana leaves or a large baking dish that you can cover.
Preparations:
Stir the achiote paste, juices, and salt together in a large bowl.
Cut the meat into bite sized pieces, mix it with the achiote mixture and set it in the refrigerator overnight to marinade.
Preheat the over to 325 F.
Hold the banana leaves directly over the flame on the stove until they soften, but do not burn. Line a large baking dish with the leaves.
Place the pork and all the marinade inside the dish on top of the leaves. Cover with a lid or with foil.
Bake for two hours. The meat should be tender and falling apart – if it is not, then bake for another 30 minutes.
Enjoy the buried pork recipe – perhaps Cochinita Pibil – pork Mayan style – will be a new holiday tradition. Happy Holidays!
*Note – Because the FTC requires it, I am noting that the Mayan Riviera Tourism, Hotel Akumal Caribe, Villa Akumal, and Akumal Guide Mexicarte  sponsored this experience. I was not told what to document or how to document the experience, we were simply asked to attend and film – anything expressed in posts related to the activities is my own opinion expressed from my own personal experience.