Garden
— By
Shawna
on November 3, 2013 7:00 am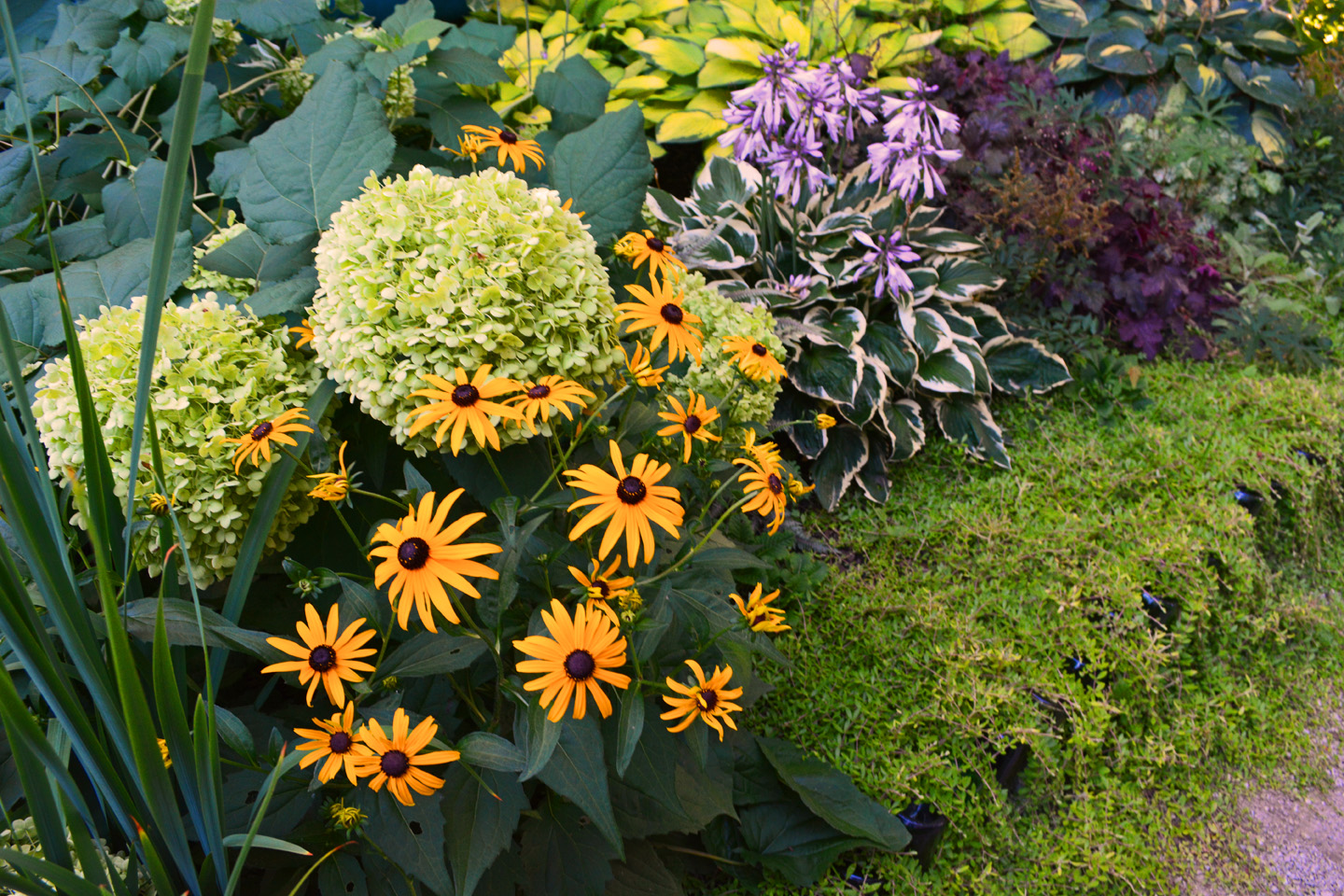 Many years ago I went to a garden conference and listened to a well known horticulturist give a lecture on proper color, form, and texture for the front garden. It was a very sedate discussion that went something like this, "Only use whites and the palest of pinks and shades of violet so as to not disturb your family's finest sensibilities. Never clash. Your garden design should be a long lasting landscaping investment that remains reliably appealing and static for up to ten years."
Blink. SAY WHAT!?!?!?
Seriously?  Who wants boring? What about updating color, form, and texture in your garden regularly throughout the seasons?  What about adding curb value to your home by creating an interesting space that features fun ideas with creatively bold colors which can be refreshed and kept current?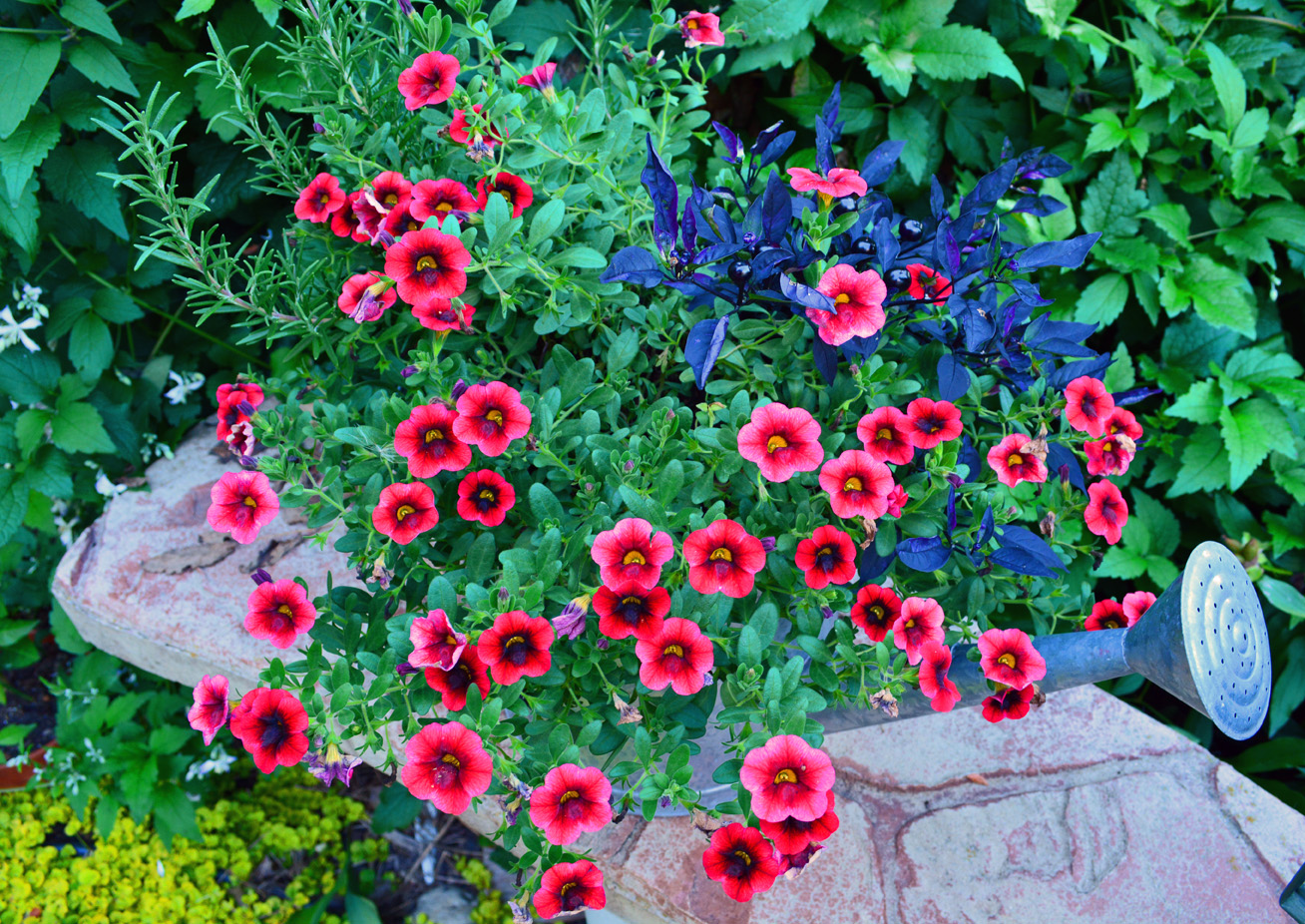 This year I added color to my patios in the form of ornamental edible containers (see above) mixed with Bonnie Plants Rosemary, Purple Flash Ornamental Pepper, and Proven Winners Superbells Pomegranate Punch Calibrachoa. Each container was bold, colorful, edible, and filled with personality. I tried to create part-shade plantings that offered variety, color, and form changes as well (see top photo). Growing creative fresh ideas can make a real difference in how people experience your garden.
My friend Rebecca Sweet has written a book you must get for your favorite gardener as a gift (that means "buy for yourself") this season. It shows you how to say no to boring and yes to creative gardening ideas which can update your current look. Refresh Your Garden Design With Color, Texture & Form is a book that features ways to bring a dull, lackluster garden into a more appealing and exciting place.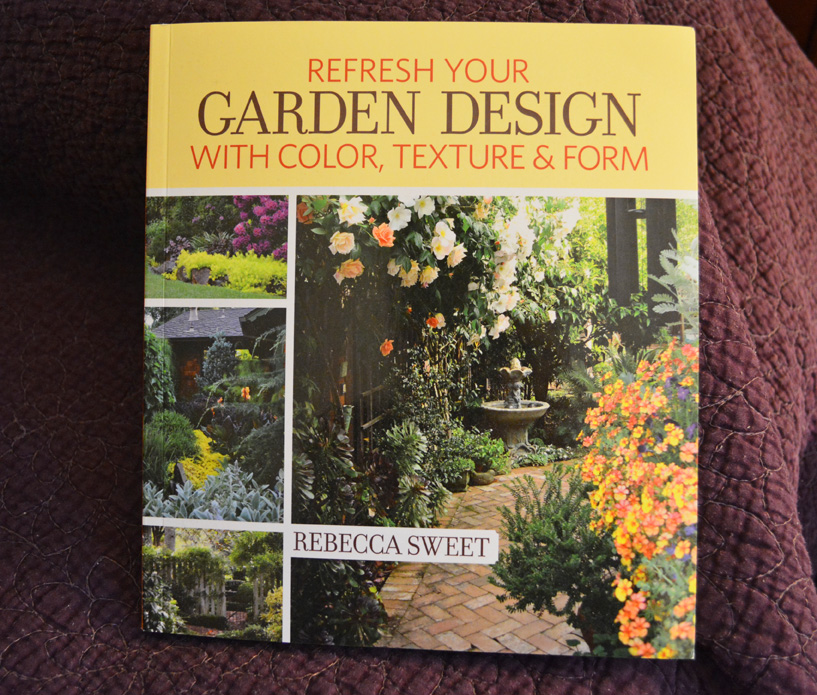 Rebecca has joined with a few terrific garden bloggers across the interweb to give away oodles of cool prizes and have a Virtual Book Party to celebrate the release of her awesome new book.
Proven Winners is sponsoring the prize give away on my blog. One randomly selected winner will receive –
A $75 gift certificate from Proven Winners to spend on their website
Six  'Pomegranate Punch' calibrachoa plants to be delivered in the spring, and
2014 Proven Winners Garden Idea Book
~HOW TO WIN THE PRIZE –
It is easy to enter to win the prize on this blog give-away. In the comment section below tell me what type of interesting design idea you have done in your garden – INSPIRE US!! If you do not have an idea and want advice – leave your question and we will all help you solve the dilemma.

I will randomly select a winner to the contest next week on Sunday, November 10th, with the winner being announced on Monday, November 11, 2013.

Also -
Several other bloggers are participating in this virtual book tour, each offering a different prize. Visit each blog below and leave a comment on the giveaway post for a chance to win that prize. The more blogs you visit, the more opportunities for you to win some goodies!
………………………………………………………………………………………………………………………………………………….
Dee Nash at Red Dirt Ramblings is offering a hand-selected bulb bonanza in conjunction with Peaceful Valley Farm and Garden Supply.  Known online as GrowOrganic.com, Peaceful Valley was established by organic farmers in 1976 and has grown to be the largest organic gardening supply company in the U.S! This organic bulb collection is an ideal way to introduce seasonal color echoes into your garden. (valued at $50.00)
Pam Penick at Digging is giving away a $50 gift certificate to the irresistible online nursery Annie's Annuals. Annie's specializes in rare and unusual annual & perennial plants, including cottage garden heirlooms and native wildflowers. They have a huge selection of amazing treasures that are guaranteed to help introduce color, texture and form back into your garden!
Robin Horton at Urban Gardens is offering a fantastic garden-watering duo from the kind folks at Dramm:  the One Touch Rain Wand and Color Storm Turret Sprinkler (valued at $50). Dramm is a family-run business that makes some of the best, and certainly most colorful, garden watering tools around, helping to make your garden chores easy and fun!
Carol Michel at May Dreams Gardens is giving away a much-desired Fiskars tool set: a Telescoping Bypass Loper and a Long-Handled Aluminum Hoe (valued at $65).  Fiskars products are renowned worldwide for their functionality and cutting-edge design so what better way to take care of your garden, keeping it in tip-top shape!

Susan Morrison at Blue Planet Garden Blog is giving away a garden-design package that's perfect for anyone looking to shake things up in the garden. In addition to a one year subscription to Horticulture and a bound anthology of her popular 'Harmony in the Garden' column, Rebecca is offering the winner an online design consultation!
Gossip in the Garden, is offering something for tech-savvy and traditional gardeners alike: a Garden App Package consisting of Sunset's Western Garden app, Foolproof Plants for Small Gardens app and the Garden Tracker-Bumper Crop app as well as a signed copy of my new book (valued at $40.00)
 AND THE RANDOMLY SELECTED WINNER OF THE PRIZE FOR THIS BLOG POST IS KATHY PURDY OF COLD CLIMATE GARDENING!!! CONGRATULATIONS!!!!!!!!!!!!
Tags: Calibrachoa, color, design, form, garden, gardening, how to, My Garden, pomegranate, proven winners, rebecca, Shawna Coronado, sweet, texture