Green Ideas
— By
Shawna Coronado
on April 14, 2013 10:25 am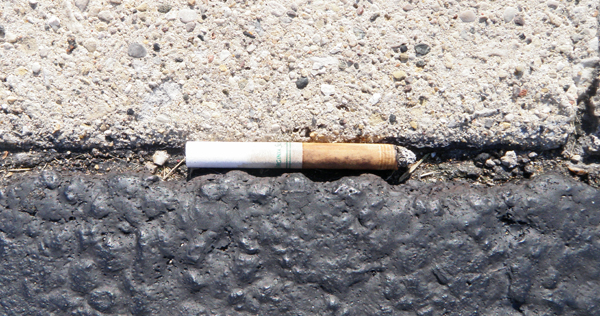 Did you know that cigarette butt litter makes an impact economically and environmentally in your community? I see it every day and am shocked by drivers who pitch their disgusting cigarette butts out of car windows and on the sidewalks as they are walking from their car to stores and businesses. Doing this is more than littering, it is an environmental hazard.
Here is the reason that cigarette butt litter is a negative issue for more than just aesthetic reasons; cellulose acetate is what makes up the filter on a cigarette. Tragically, it contains trace amounts of cadmium, arsenic, lead and other toxins also. Each of these carcinogens is very slow to degrade, so is damaging to our environment. Each cigarette butt can take up to ten years to decompose, dependent upon environmental conditions. Wildlife also mistakes the butts for food and eat this poison.
When smokers have no concern about discarding cigarette butts and throw them out in inappropriate ways – like tossing them into lakes, out car windows, on to beaches, and on the ground – they are basically throwing these substances directly into the environment. Look at the numbers: 5.5 trillion cigarettes are used worldwide annually. Keep America Beautiful, a national litter prevention not-for-profit, says there is an economic impact of cigarette litter, "Residents and businesses "pick up" the tab. Cigarette butt litter has to be cleaned up. This requires additional sidewalk and street sweeping, greenway and park maintenance, storm drain cleaning, and increased maintenance of storm water filters. And business owners bear the expense of cigarette butt litter cleanup around entrances, exits, sidewalks, and parking lots."
With the observance of Earth Day around the corner, Legacy has partnered with Leave No Trace Center for Outdoor Ethics (Leave No Trace) to "Rethink Butts." To help spread the word about this environmental and public health issue, Legacy and Leave No Trace are providing a range of materials to raise awareness and mobilize action surrounding this toxic problem, including a new set of television and radio Public Service Announcements (see the video below). Infographic and tool kits available in English and Spanish. These materials and more are available at www.Rethinkbutts.org.
Another group that is making an effort to clean up butts is Keep America Beautiful's Cigarette Litter Prevention Program (CLPP). It is designed to support local community improvement initiatives for reducing cigarette butt litter. Get step-by-step instructions for implementing a program today and get started making a difference in your community.
Say no to butts — make a difference!

(Parts of this blog post have been republished from an older post in 2009. STILL relevant after all these years!!!!)
Tags: ashtry, Cigarette Butts, Community, discarding, disgusting, earth, environment, inappropriate, Keep America Beautiful, Leave No Trace, Legacy, litter, poison, Shawna Coronado, taxpayers, thrown out, toxins, trash, waste, wildlife