Urban Life
— By
Shawna
on April 23, 2013 6:09 am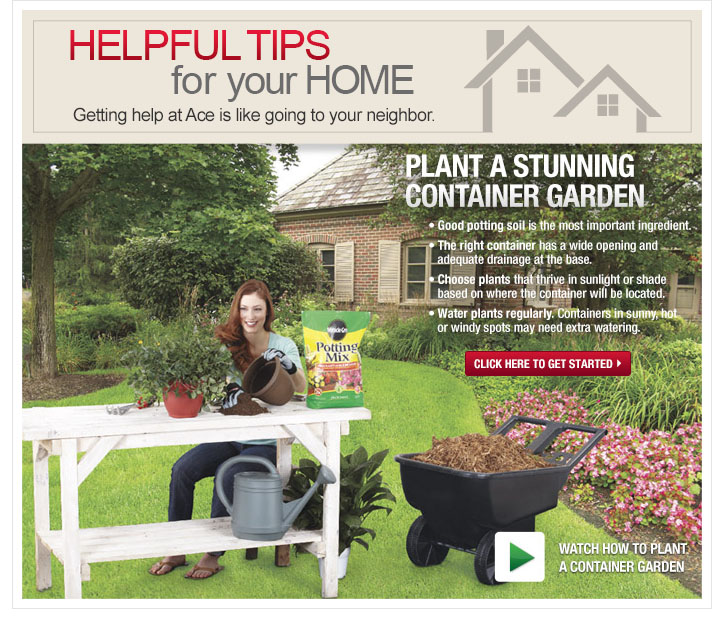 In the last few weeks a few of my friends have sent me mysterious emails that go something like this, "I love your flip-flops in the Ace ad. Where did you get them?"
My reply, "Huh?"
More emails came with this style of note, "Congratulations on your partnership with Ace Hardware! Awesome to see your success."
My reply, "Huh?"
And finally, the most shocking emails I received were kind of hate mail-ish, "Why are you using Miracle Gro now? What kind of freakin' all-organic expert are you?"
My reply, "Huh?"
In all, I've received over 100 emails, private notes, questions and people posting links to my Facebook page asking me all about my partnership with Ace Hardware.
Turns out that Ace Hardware sent out an email flyer with a photo of a female gardener planting "a stunning container garden" with how-to links that lead to a video. She looks a bit like me, and I know it sounds like my M.O., but IT IS NOT ME. This lovely young woman is someone else and definitely looks about 20 years my junior, so thank you everyone for your lovely compliments, but 20 years ago came and went already. ::grin::
Answers To Your Gazillion Questions:
On the flip-flops — I don't know where she got the flip-flops, but I'd like a pair myself. I wear a size 7 1/2 if anyone wants to send some to me.
About Miracle-Gro and shopping — I am an organic, sustainable gardener and do not use chemical products regularly in my garden. However, I do shop regularly at Ace Hardware for  garden supplies.
Can you buy seeds at Ace Hardware? — Yes, as a matter of fact you can buy seeds at most Ace Hardware's.
Do you color your hair? — Wow. Is nothing sacred? And.. uh.. yes I do. If I did not color my hair I'd look much more like "Rogue" from X-Men.
Who's your real life doppelganger? — While I've never had a true doppelganger, the person I get mistaken for the most is actually Jodie Foster. I think it's more about my deep voice and speech patterns.
How do you plant a tomato? — This is an easy one. Go to my tomato planting page for my techniques and video – HOW TO PLANT A TOMATO.
On my partnership with Ace Hardware — Currently I am not a spokesperson for Ace Hardware. However, I do love the stores, perhaps I can work with them in the future. Ace Hardware, what do you say?
Thanks to all of you who sent a gazillion crazy questions – I have been laughing for a week now. You all crack me up. I am glad I have you peeps in my life to make me smile.
Happy Green Gardening!
Photo Credit is via Ace Hardware. I contacted Ace Hardware and asked permission to use their ad photo and they approved whole heartedly. They also loved the doppelganger story. Who could've guessed that my doppelganger works for Ace Hardware?
Tags: ace hardware, doppelganger, garden, tomato