Urban Life
— By
Shawna
on April 10, 2013 7:31 pm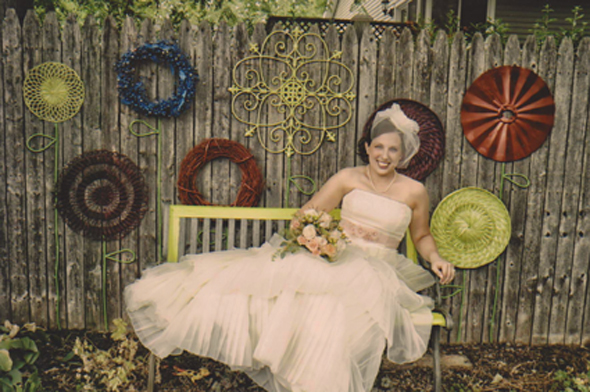 One day last summer I had a knock on my front door a few days before I left for an out of state speaking engagement. There in front of me was a smiling woman I had never met before. She said, "You don't know me, but we love your garden. We see it growing every day. It means so much to us. You see, Shawna, my son is getting married in just two days and we want to come take photos here in our neighborhood – in your garden – to celebrate their marriage. Would that be okay?"
For a full minute I stood dumbfounded. My garden is unique but is far from wedding material. I never thought anyone would ask to have their wedding photos in my vegetable patch. There were weeds (gasp!). There was messy spots (double gasp!). I would be gone when they were taking the photos, but invited them to have full roam of the garden. And there you see the photo above – delivered just this week by my new neighbor friend – a beautiful bride sitting on my Kick Ass Green park bench radiating happiness in front of my recycled garden art.
There are haters in the world and sometimes the hateful things in life overwhelm an individual. Yet living in an urban community where so many people have become a part of my life in a positive way is one of the most beautiful things that has ever happened to me and it balances out all the negative things that happen. It's anti-hate — it's garden love.  This bride is a part of that garden love.
Thank you world.
Oh – and now it is your turn – get out there and share love with your community – it will bring you smiles, laughter, friends, and maybe a bride or two.
Tags: ass, bridal, bride, dress, eco-friendly, garden, gardening, green, grow, how to, kick, Shawna Coronado, Sustainable, wedding