Green Ideas
— By
Shawna
on January 30, 2013 6:31 am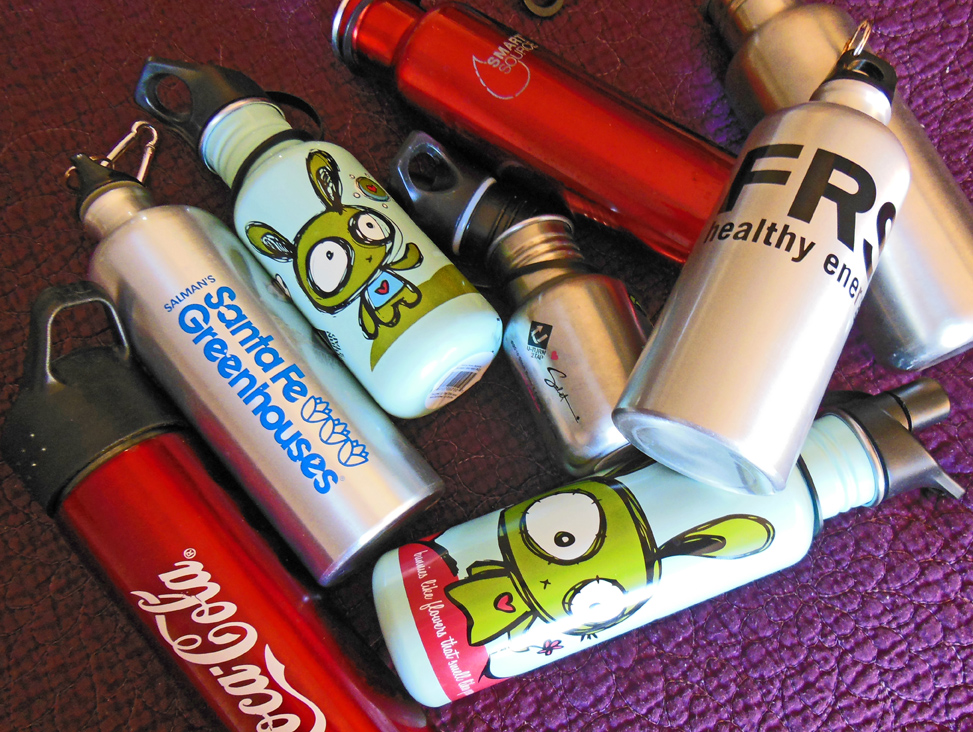 You already know I have addiction issues: here are my top three serious addiction issues all laid out naked and bare before you:
Gardening. I'm clearly addicted to gardening – if I could grow something on my physical person I would plant my pores and turn into Super Nature Lady.
Coffee. I also have an addiction for coffee, specifically espresso whipped up in a searingly hot Almond Milk Latte. Yum.
Water Bottles. Yep. You heard it right – water bottles. Specifically stainless steel ones with screw top lids. Love'em like pizza and often have one out in the garden filled with an iced latte or iced tea in the summer.
I adore water bottles so much I have a collection of them. Some would be considered ancient now and are no longer manufactured, like the ones in the top photo. Sorry – I have no idea where to buy these now that they are considered "old and ancient", but I love them nonetheless and use them often because stainless steel bottles are meant to last a long time and are a great alternative to plastic bottles without the toxic and environmental damaging production concerns related to plastic. Below are the pros and cons of stainless steel water bottles –
PROS AND CONS OF STAINLESS STEEL WATER BOTTLES
Pros
Easy to wash – can use high temperatures to clean if necessary.
Bottles are safe to drink from and is BPA and Phthalate free.
Stylish and easy to recycle if needed.
Lightweight and can be transported on airlines if empty.
Can hold both hot and cold liquids.
Cons
Sometimes there's a metallic taste to the water
the water heats up if it's left in your car or outdoors in hot weather
Bottle can dent if dropped
Paint sometimes peels off exterior of metal bottles
Metal water bottles that are lined with a resin lining also leach BPA, so do not get a bottle with what appears to be a "colored" lining of any kind.
By getting a reusable water bottle and drinking tap water, you are helping the environment by keeping plastic water bottles out of the landfills. Having a safer, BPA and Phthalate free source of drinking water for your family is a smart green choice, so be sure to get bottles that do not have a resin lining – a golden-orange coating points to a material that can shed BPA.
Tags: bottle, BPA, drinking tap, eco, Eco-Blogging, eco-friendly, environment, landfill, liquids, making a difference, metal, Phthalate, reusable, Shawna Coronado, sustainability, Sustainable, tap water, wash, water