$10 Culinary
— By
Shawna
on January 13, 2013 1:38 pm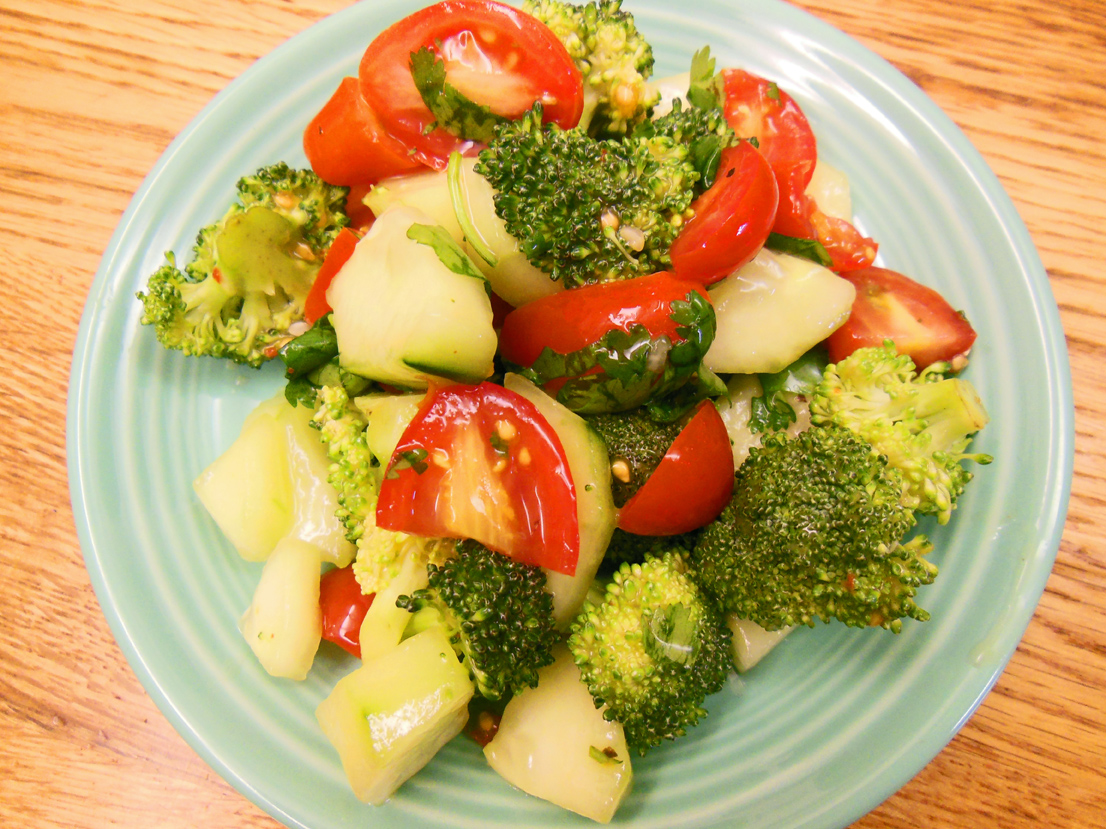 New Years Resolutions are being touted all over this interweb thing. You know, unrealistic ones like, "I'm going to make a million dollars this year AND lose 100 pounds AND get a new life." The real secret to succeeding with a New Years Resolution is to start small and make it a habit. Losing weight, for instance, is a culinary and exercise lifestyle change. Getting your exercise on is all about scheduling it into your life. To make a difference for your self you have to rebuild bad habits. Why not start with 30 days of good eating?
This year I would like to continue expanding my knowledge of organic foods and eating healthier with fresh and organic vegetables. Below is one of my favorite salad recipes to bring the fresh taste of summer to you in the heart of winter and kick off that resolution season in a delicious way. Yummy and easily under $5 to make for the family!
~ ~ ~ ~ ~
Broccoli, Cucumber, Tomato, and Cilantro Salad
Ingredients:
2 cups chopped broccoli
2 cups chopped, peeled, cucumber
2 cups chopped cherry tomatoes
3 tablespoons chopped fresh cilantro
Your favorite no fat Italian dressing
Salt and pepper to taste
Mix all vegetables together with cilantro. Top with a light dose of salad dressing and salt and pepper. Toss. Done.
~ ~ ~ ~ ~
To Kick Off Healthy Eating in 2013
I will be hosting a live video event on Google+ Hangouts sponsored by SELF Magazine focused on eating healthier in 2013. SELF is teaming up with Google+ to host a series of Hangouts (live video chats with up to 10 people) aimed to jump start your New Year. Starting January 14, they'll kick off Hangouts On Air, featuring "yours truly" as the host of the first event. We'll be chatting live via Google+, sharing our best tips and tricks for starting 2013 on the right foot. Special participant guests for the event include +C&J Nutrition +Blythe Metz +Jacqueline Wasilczyk +ZAGAT  and +Meatless Monday.
HERE'S THE EVENT IF YOU WOULD LIKE TO WATCH IT AND DISCOVER SOME AWESOME HEALTHY EATING TIPS:

Tags: broccoli, cilantro, cooking, cucumber, culinary, dressing, event, exercise, family, G+, Google, Italian, organic, salad, self magazine, Shawna Coronado, tomato