$10 Culinary
— By
Shawna
on November 19, 2012 3:25 pm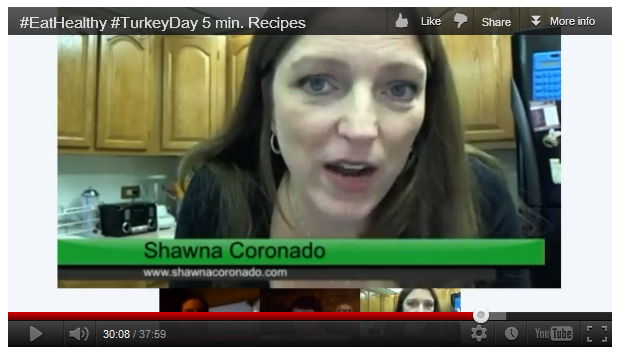 Cooking yummy RAW and healthy Thanksgiving side dishes can be so much fun, particularly when you get to do it live on Google+ Hangout on Air with the beautiful Blythe Metz. She is the RAW culinary genius behind the Blythe Raw LIVE online show and website. Below you see the recipes, and of course, the video with Blythe and me LIVE online cooking super-easy side dishes for the Thanksgiving season. Only one is "cooked" – all the rest are RAW and deliciously nutritious. (If you are reading this via your email, click through to the website to see the video.)
Be sure to follow both Blythe and me on Google+ – - we will have lots of great culinary ideas in the future for you and will be sure to broadcast recipes live at every chance!
We want to hear your great side dish ideas too – list them in the comments below for all my readers to tap into for the holiday season. Google+ has a special Thanksgiving page for everyone to get some good ideas from.  Thanks much and Happy Thanksgiving!
Blythe's Amazing Recipes:
Cranberry Orange Relish
Yield: 4-6 servings
1 pint fresh organic cranberries
1 organic orange
1 fuju or green apple
2 Tbsp raw honey
Place all ingredients in food processor with chop tool, and pulse until well mixed but chunky. Serve chilled.
Fennel Orange Salad
Yield: 4-6 servings
2 fennel bulbs
5 baby bok choy
½ cup pumpkin seeds
1 orange, peeled and sliced
Dressing:
¼ cup cold pressed sesame oil
1 inch fresh ginger
1 Tbsp nama shoyu or tamari
juice from 1 orange
In food processor, using the chop tool, combine the dressing ingredients. For the juice of one orange, simply slice the orange in half and squeeze juice into food processor. Puree until well mixed. leaving the dressing in the food processor, change the chop tool to the slice tool. Slice the fennel and boy choy. Pour out salad mixture and dressing into a large bowl and toss. Sprinkle pumpkin seeds and chopped orange slices.

Shawna's Yummy Recipes:
Roasted Beets

5 or 6 Beets, cubed
3 Tablespoons crushed garlic
¼ cup butter
Salt and Pepper
Combine ingredients in a baking dish. Roast for one hour at 350 or until fork tender. Serve.
RAW Beet and Greens Salad

Ingredients
Beet greens from beets used for previous recipe, sliced thin
Kale, a large bunch, uncooked and torn into bite sized pieces
Swiss chard, a handful sized bunch, uncooked and torn into bite sized pieces
Mustard vinaigrette (1/2 cup balsamic vinegar, 2 teaspoons honey, Salt and pepper, 1/2 cup extra virgin olive oil, 2 T mustard)
Mix greens in bowl, add vinaigrette. Serve.
Enjoy!
Tags: beet, beet greens, beets, blythe metz, butter, cooking, cranberry, culinary, eco-friendly, garden, garlic, honey, kale, mustard, olive oil, organic, Shawna Coronado, side dish, swiss chard, Thanksgiving