Urban Life
— By
Shawna
on November 2, 2012 6:01 am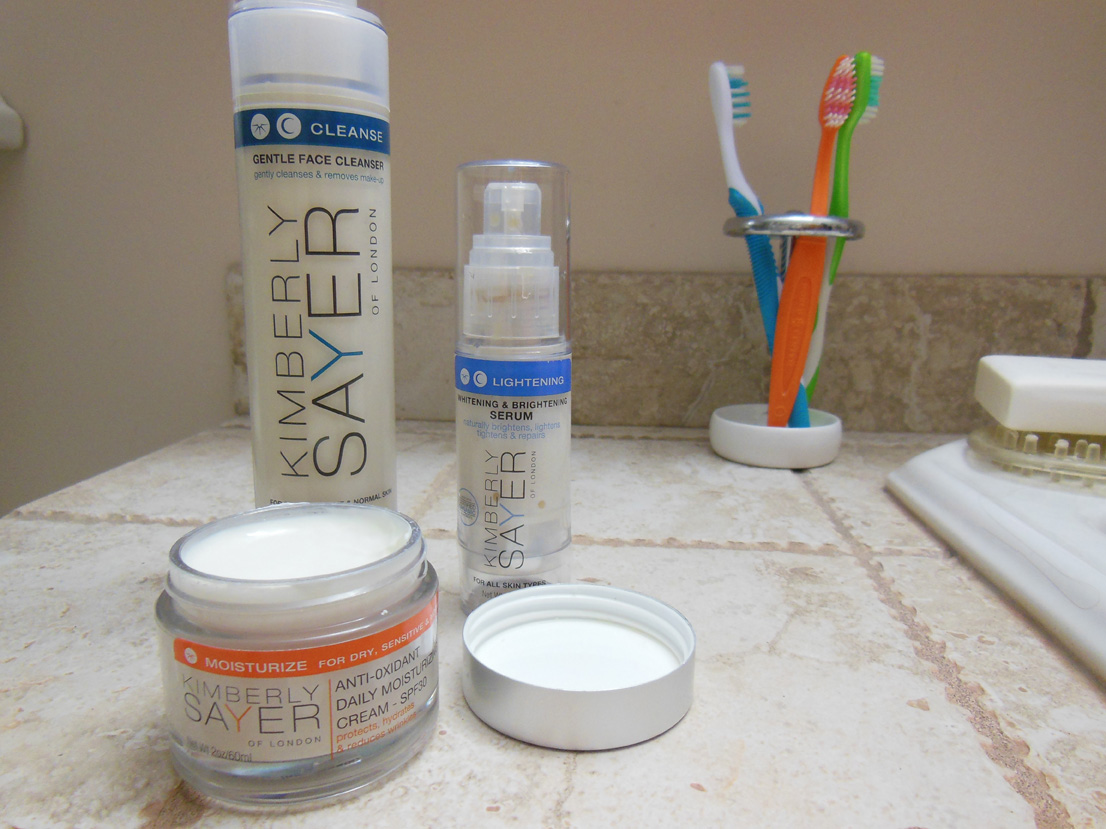 I have sensitive skin. So sensitive, in fact, that I can have an immediate reaction when something heavily filled with chemicals touches my skin. Heavy aromatic smells bother me too. It makes me concerned that so many chemicals are used in lotions and cosmetics in the United States and I have been searching for alternatives for some time. When Kimberly Sayer of London and her team approached me about doing a review of her natural and organic products, I felt I should try the basic products out for several months before I could give an accurate review.
I started using the Kimberly Sayer cleanser, moisturizer, and brightener at the beginning of August and promised an honest review within a few months. Here are the results -
Whitening and Brightening Serum (Retail $36)
Kimberly Sayer's Whitening and Brightening Serum is a blend of natural and organic lighteners that lightens and brightens dark marks, hyperpigmentation and sun damage. It also claims to tighten the skin to build a youthful and toned appearance.
For the first 20 days of use I noticed a very slight lightening of the skin and no "tightening" or youthful appearance from what I saw. After 20 days my skin began itching immediately following use and I developed a rash on my lower jaw after using it. I know this lotion is organic, but the ingredients still gave me a reaction. I did not feel it met its claims of "youthful" and "toned" appearance.
Antioxidant Daily Moisturizing Cream (SPF 30) (Retail $32)

Kimberly Sayer's Antioxidant Daily Moisturizing Cream is a rich daily hydrating crème with antioxidant ingredients to help protect against free radicals and repair skin damage. The claims are that the lotion also smooths wrinkles and protects the skin from harmful UV radiation.
While the ingredient list does contain SPF 30 to protect the skin from UV rays, after using the lotion for over 60 days I can say it does not smooth wrinkles from what I can tell. It did make my skin feel nice when the lotion was applied. I had no reaction to the ingredients and I liked the consistency of the lotion. My concern, however, was the scent – very lemony. So much so that after I put it on my youngest daughter would tell me that "I smelled funny" – I also did not like the scent as it was very strong.
Gentle Cleansing Lotion (Retail $25)
Kimberly Sayer's organic cleanser is filled with rose flower water, lavender oil, Non-comedogenic Hawaiian Sea Algae (Phaeophyceae and Rhodophyceae), and a special ingredient called Foraha which is a flower extract which Kimberly says has been proven to aid in the elimination of waste material and toxins from the capillaries.
While this product did, indeed, cleanse makeup off my skin effectively I felt it was very difficult for me to use. It was heavily scented and when I used the cleanser it made my eyes water because of the scent. I had to stop using this product within 3 weeks of starting it because I could not take the scent – kind of a lavender combined with lemon smell – and I found myself  "holding my breath" and closing my eyes to cleanse my face. Finally I had to stop using it all together.
REVIEW CONCLUSION
I did interview Kimberly and found her pleasant and passionate about her cosmetics, but in all honesty, I would not use them again as my scent allergies and skin are too sensitive for these products.
While these products seem to be great organic and healthy skin products if you are not sensitive to scents, my hyper-sensitive skin and smell issues made the experience less than satisfying. My recommendation would be to try them out for a while yourself before making a permanent purchase. There is a "100% Satisfaction Guaranteed" claim on Kimberly Sayer of London's website.
*Note – Because the FTC requires it, I am noting that Kimberly Sayer of London provided these products for me to try out at no cost.
Tags: allergies, Allergy, aroma, brightener, cleanser, eco-friendly, Kimberly, make up, moisturizer, organic, product, product review, review, Sayer, scent, scented, serum, Shawna Coronado, smell, Sustainable, whitener